This article is more than 1 year old
Reseller gives Brits Insight into value webcam shipments of the future-ture-ture-ture
Pull on your gold hoodie and Darth Vader breathing apparatus and take a trip with us to 2051
Updated Worried about the impact of Brexit and COVID-19 on your supply chain? Wondering about the operating systems of the future? A reseller has the inside scoop on when you should expect that shipment of 17 "Windows XP" cams, and it's 2051.
Three decades on – whether we're in or out of the EU (perhaps the whole planet will be governed by a clan of unitard-clad Hapsbergs-esque types, as the world certainly seems keen enough on nationalism, overweening tyrants and other horrible anachronisms) – readers will be pleased to know that supplies of inexpensive webcams can be guaranteed, judging by the results pages fetched by the website of Insight this morning.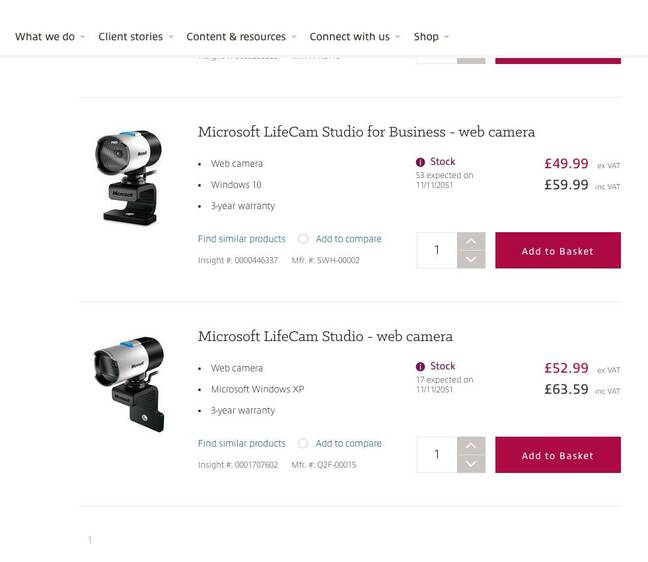 Click to enlarge
As if running famously EOL'ed Windows XP on your hardware in 31 years' time wasn't enough to fuel the nightmares of infoseccers everywhere, the reseller was also, at the time of writing, offering up speakers that were so multi-directional, you could glide along the 4D space-time fabric and speak to that "workgroup of up to 6" for a videoconference "anywhere" in 2056. Spooky.
Or, if you're not willing to wait that long, there are 64 Logitech C310s available in 2026. The future is HD.
We should point out, of course, that the particular webcam model is actually listed on Microsoft's own site as Windows 7 or higher – and also as being discontinued. The data is likely as erroneous as the shipment date.
You can see the results yourself on the digi store of the future-ture-ture over here – if trusty old Insight hasn't pulled them by the time you read this.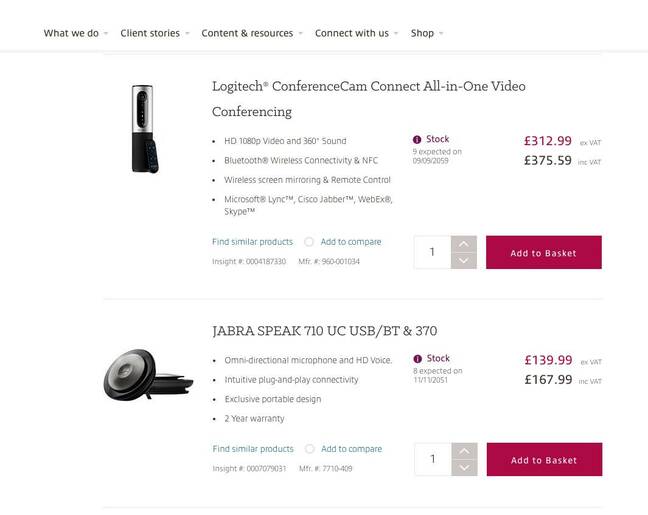 Click to enlarge
We've run stories about online prices being wrongly inflated, but this is a new one for us and gave us a small, sorely needed chuckle of a Friday afternoon. We hope you and the people you care about have a lovely weekend, and we tip our hats to Reg reader Toby, who spotted the issue.
Updated at 17:03UTC to add:
The, er, Time Lords at Insight have got in touch to confirm: "This is just a web error – we're getting it resolved." ®