Top 5 billionaires find that global pandemics are good for business – and their wallets
Richest boys' club wealth grew by $101.7bn between March and June
Astounding though it is, there are members of the human race about whom it can confidently be said: "Look, they're having a good pandemic."
As Europe looks set to be submerged by a second wave of COVID-19 with France's Marseille hospitals near breaking point and the UK's test-and-trace systems in tatters, tech billionaires are among the lucky few who seem able to sit back, put their feet up, and watch the cash roll in.
Whatever 'new normal' emerges from the ghastly infectious outbreak, investors seem confident it will involve a large slice of cloud computing and plenty of home-delivered packages in cardboard boxes.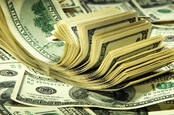 Amazon's coronavirus symptoms: Swelling of the profit, large sales deposits, insatiable demand
READ MORE
Yes, the world's richest man, Amazon founder and CEO Jeff Bezos, has seen his personal wealth swell by $43bn or 39 per cent to $156.8bn between 18 March and 17 June 2020, according to figures released by the Institute for Policy Studies, a US scholar-activists think tank. That is enough for him to give $100 to every man, woman, and child in the United States, and still be worth more than he was in spring.
Although staggering, his inflating wealth is not unique. The top five billionaires – Jeff Bezos, Bill Gates, Mark Zuckerberg, Warren Buffett, and Larry Ellison – saw their wealth grow by a total of $101.7bn, or 26 per cent over the same spring period. That's roughly the GDP of Puerto Rico.
Bezos may be leader of the pack in terms of absolute wealth, but the tech billionaire who saw the largest relative increase was Mark Zuckerberg, whose wealth grew from $54.7bn in March to $86.8bn in June, a climb of nearly 59 per cent. The Facebook founder's mounting fortune comes from the simple business model of delivering eyeballs to advertisers. As long as consumers are sucked into content, everyone is happy. Well, not quite everyone.
US-based global activist org Avaaz found that at the height of the global COVID-19 pandemic in April, 82 websites spreading health misinformation attracted an estimated 460 million views on Facebook.
The pandemic has already claimed more than 950,000 lives. As the northern hemisphere anxiously awaits winter, when seasonal flu is expected to mingle with a virulent second wave of COVID-19, health systems are stretched to breaking point, and the world's major economies sweat over whether to introduce more lockdowns, the ultimate tech bro will be secure in the knowledge things are getting better. For him. ®