Future airliners will run on hydrogen, vows Airbus as it teases world-plus-dog with concept designs
Comes not long after firm ditched hybrid-electric propulsion demonstrator
Airbus has lifted the lid on proposals for airliners that run on hydrogen, months after pulling the plug on a battery-powered testbed aircraft.
The three concept planes unveiled by the European aircraft manufacturer today represent "a business opportunity and a moral obligation and we are going to put everything behind it to make it a success," according to Glenn Llewellyn, Airbus' head of "zero emission" aircraft.
Hydrogen is being touted by the company as a future replacement for kerosene-based aviation fuel, currently used to power the world's fleet of airliners and lighter aircraft alike. Airbus says that hydrogen offers a potential path to "zero emission" aviation, seemingly on a net-CO2-emitted-over-lifespan basis.
In its liquefied state, hydrogen fuel is "four times more voluminous than kerosene so naturally we aim at shorter distances to be flown," Airbus' Jean-Brice Dumont said on a live webcast.

Click to enlarge
Pointing to an image of an airliner with windows that only stretched two-thirds of the fuselage length, he added: "You see the aft part of the fuselage being windowless, that is where the hydrogen is stored."
It also shortens the potential ranges of airliners, if Airbus' concept designs are accurate. Dumont mentioned that the A320-a-like turbofan variant could potentially fly up to 2,000nm (3,704km) with between 120 and 200 passengers aboard, with the turboprop coming in at 1,000nm (1,852km) for 100 passengers.
For comparison, a modern A320 can fly for about 3,500 miles (c 5,633km) with around 150 people on board. The De Havilland Dash 8-Q400, a modern turboprop airliner, can move about 75 passengers a distance of around 1,100 nautical miles/2,040km.
Airbus also unveiled a flying wing concept, a layout that has been doing the rounds since the 1960s but which has never made it into production as a civilian airliner despite lots of R&D investment.
Energy density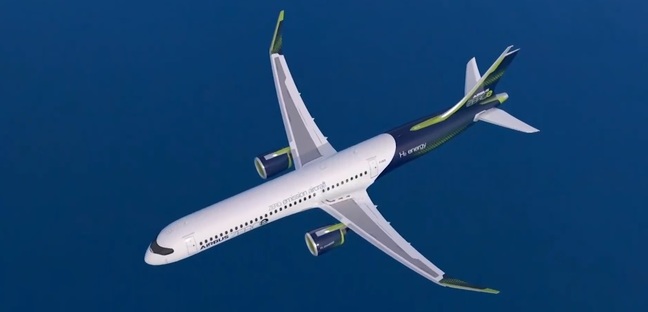 Click to enlarge
"Our experience with battery technology shows it is not moving at the pace we want," said Llewellyn, in a clear reference to Airbus' April decision to abandon its E-Fan X joint venture with, among others, British engine manufacturer Rolls-Royce.
The E-Fan X concept was supposed to be a flying testbed with a fuselage-mounted gas turbine powering a 2.5MW generator which in turn powered a wing-mounted electric motor. Rolls was keen to stress earlier this year that one of the successful developments from the cancelled project was the "keg sized" generator, though its associated gubbins took up rather a lot of the testbed airliner's cabin.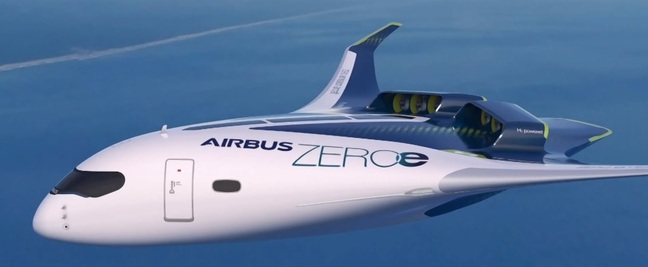 Click to enlarge
Airbus CTO Grazia Vittadini praised this earlier electrical propulsion research on today's call, saying that new jet turbine engine designs could potentially rely on "new injection principles, new combustion chambers" and adding "we will have an embedded electric motor powered by fuel cells. The electrification component by all means is still there. One of the key learnings we have gained through electric flight will be of capital importance."
The company has previously spent tens of billions bringing its visions to reality, although the A380 super-heavy airliner was doomed to ultimate failure as the world's airline business model began evolving from ever-larger people movers flying between large hubs towards localised point-to-point flights. In addition, environmental pressure began coming to bear on heavy four-engined aircraft.
While Llewellyn said that "billions" would be spent on hydrogen-powered aeroplanes of the future – with Vittadini adding that "we will lower the barriers to entry" for others in a "virtuous circle" – Airbus will be hoping that the world is ready to accept hydrogen-powered airliners by the year 2035, when it said it expects to deploy them for real.
Just before today's announcement, Rolls-Royce, whose business consists largely of jet turbine engines for airliners, reportedly hit a share price low not seen since 2004.
The year 2035 will be close to the centenary of the 1937 Hindenburg disaster, when a hydrogen-filled airship caught fire after a static spark ignited its onboard gasbags. Future fliers will be hoping the promises of new technology are matched with equally strong promises about future safety. ®