This article is more than 1 year old
Amazon staffers took bribes, manipulated marketplace, leaked data including search algorithms – DoJ claims
Banned merchants restored, rivals' stores binned, cash sent around town in an Uber, it is alleged
US prosecutors claim six people bribed corrupt Amazon insiders to rig the the web giant's Marketplace in their favor and leak terabytes of data including some search algorithms.
Amazon's digital bazaar is open to third parties who can push their products on the e-commerce giant's store, and even have Amazon do their deliveries. Amazon vets such vendors – who are known as "3Ps" – and then polices their activities on its platform.
In an indictment [PDF] filed late last week, the Dept of Justice asserted that the six defendants paid over US$100,000 to "complicit Amazon employees and contractors." The DoJ claims at least ten Amazonians took the crooked coin and "baselessly and fraudulently conferred tens of millions of dollars of competitive benefits on hundreds of 3P seller accounts that the defendants purported to represent".
The accused are: Ephraim Rosenberg, 45, of Brooklyn, New York; Joseph Nilsen, 31, and Kristen Leccese, 32, of New York, New York; Hadis Nuhanovic, 30, of Acworth, Georgia; Rohit Kadimisetty, 27, of Northridge, California; and Nishad Kunju, 31, of Hyderabad, India. It is alleged they conspired to use a communication facility to commit commercial bribery, conspired to access a protected computer without authorization, conspired to commit wire fraud, and committed wire fraud.
Terabytes of confidential information that insiders misappropriated from Amazon's protected networks
Actions alleged to have been performed by the crooked insiders include "reinstate products and merchant accounts that Amazon had suspended or blocked entirely from doing business on the Amazon Marketplace." Among the blocked accounts were vendors of "dietary supplements that had been suspended because of customer-safety complaints, household electronics that had been flagged as flammable, consumer goods that had been flagged for intellectual-property violations, and other goods."
The alleged conspirators also had their Amazon insiders shut down accounts of rival 3Ps, to reduce competition for their own operations. Conspirators are also accused of: "manipulating product reviews to deceive consumers, making improper contact with consumers, and other violations of Amazon's seller policies and codes of conduct."
The DoJ alleges that "after their fraudulent reinstatement, the products and merchants earned in excess of $100 million in sales revenue."
The defendants are also accused of sharing "terabytes of confidential information that insiders misappropriated from Amazon's protected networks, including a trove of internal standard operating procedures (SOPs) and Wikis)."
"The stolen files included, among other things, the formulae for the algorithms that power the Amazon Marketplace search engine, Amazon's product-review rankings" and plenty more inside info on Amazon operations and marketplace retailer rankings.
The DoJ alleges that one of those charged in the affair, Nishan Kunju of Hyderabad, India, first took bribes himself and then quit Amazon, became a consultant and then funneled more bribes to others inside Amazon.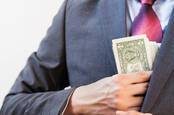 Online fraud prevention biz fails to prevent CEO's alleged offline fraud
READ MORE
"We are especially disappointed by the actions of this limited group of now former employees, and appreciate the collaboration and support from law enforcement to bring them and the bad actors they were entwined with to justice," Amazon said in a statement .
The scheme has operated since 2017, the DoJ alleges, and involved doctored invoices, a payment of $8,000 sent across town in an Uber, and plenty of tasty WhatsApp messages and emails among the miscreants.
"As the world moves increasingly to online commerce, we must ensure that the marketplace is not corrupted with unfair advantages obtained by bribes and kick‑backs," said U.S. Attorney Brian T. Moran.
The FBI helped to bust the ring and the special agent in charge of the case, Raymond Duda, said "This indictment should send a message that the FBI will not sit on the sidelines while criminals try to cheat their way to the top."
The indictment was filed with the US District Court at Seattle, Washington. A trial will presumably follow. ®