Ready to slip into your suitca... or not: Logitech wheels out new 'travel-sized' version of MX Master 3
Optimistically aimed at airport-bound folk
It's not exactly the best time to launch a travel mouse, is it? Nobody's going anywhere, except perhaps to the shops. Oblivious to this fact is Swiss peripherals Logitech, which today introduced smaller flavours of its MX Master 3 mouse for both PC and Mac, dubbed MX Anywhere 3.
Logitech flung both variants our way. Let's start with the general-purpose MX Master Anywhere 3, which has a more platform-agnostic vibe.
When you put it next to last-year's MX Master 3, the Anywhere's tiny profile starts to come into perspective. It's about half the height of the full-fat version, and similarly thinner and shorter. Consequently, you must radically re-adjust your muscle memory. Going from something that's unapologetically chunky to a mouse that could comfortably fit in your back pocket feels weird, to say the least.
But you quickly get over that. Make no mistake, the MX Anywhere 3 isn't nearly as natural to grip as the standard MX Master, but it's easy to accept that as a necessary compromise in order to achieve the given form-factor.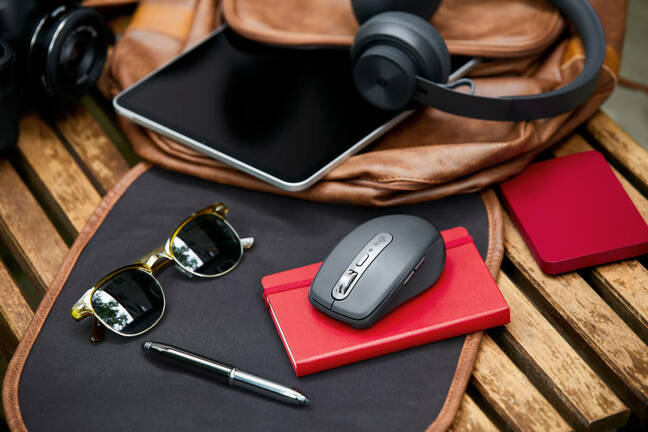 Let's be real - that bag is not going on a trip... those sunglasses are for the garden and the headphones are to shut out your partner's Zoom meeting
Where it does well is in how much of the MX Master's technology remains. The ultra-fast mag-speed scroll wheel remains, for example. This element uses electromagnetic forces to allow speedy scrolling through documents and spreadsheets. You can also lower the speed, and get a slower and ultimately precise scrolling experience, allowing you to traverse through your content one bit at a time.
Meanwhile, the 4,000 DPI sensor is both fast and responsive, and proves capable of working on both smooth and rugged surfaces. I was able to quite happily use the MX Anywhere 3 while using my jeans as a mousepad. Unlike the MX Master 3, the Anywhere's left and right mouse buttons are one with the actual chassis, which feels slightly less defined. Nonetheless, they still felt wonderfully clicky and fast. And, you can easily press the two side buttons with a short reach of your thumb.
Charging comes via USB-C, with the device rated for 70 hours of continuous usage. We haven't had our hands on the kit for that long, so we haven't been able to independently verify this. Logitech has also said you can get eight hours' worth of use with a three-minute charge.
At the bottom of the mouse, you'll spot a power button, as well as a switch allowing you to pair the mouse between three devices simultaneously. Tapping that switch allows you to move between devices, with the corresponding machine highlighted on an LED display. You can choose to pair the mouse using the included receiver, or via Bluetooth.
And then there's the Mac version. So, what's different here? For starters, it uses a silvery-white color scheme designed to match your expensive iDevice. There's also no USB receiver either – which makes sense, given Cupertino's laptop line has all-but removed the traditional rectangular USB-A port. This is an all-Bluetooth affair. Besides that, it's largely the same product.
Logitech's MX Master 3 is available from today, priced at £79.99 for both the universal version, and the Mac flavour. ®