OnePlus has confirmed its 5G-capable 8T flagship phone is scheduled to land on 14 October in an online-only event.
The model comes exactly six months after the release of its predecessor, the OnePlus 8, and just a few months after the release of the budget-friendly OnePlus Nord.
The T-series upgrades have historically represented incremental upgrades on its forebears, touting slightly boosted specs and fresher software. Flashier, radical redesigns are typically left to "numbered" releases.
The phone maker has published a teaser video for the OnePlus 8T starring Robert Downey Jr. Although the video doesn't reveal any specifics, it's amusing to note that the Iron Man star is somewhat of a fairweather mobile pitchman, previously spruiking phones on behalf of HTC with a series of shitverts that'll make you cringe so hard, you'll burst your appendix.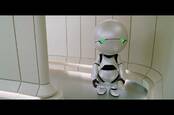 Paranoid Android reboots itself with new Android 10 builds
READ MORE
OnePlus is attempting to break into the corporate mobile market, where Samsung and Apple both currently reign supreme. Last week, it announced the inclusion of the OnePlus 8 Series and the OnePlus Nord in the Android Enterprise Recommended (AER) programme. First introduced in 2018, AER comes with a laundry list of mandates and best practices designed to sate the management and security requirements of businesses.
For instance, it requires OEMs to provide at least three years of security updates (or five, if the device is a "rugged" phone). Updates must be issued within 90 days of their initial release from Google. In addition, vendors are required to facilitate the enrolment of devices into a given Enterprise Mobile Management (EMM) programme through three potential avenues: NFC, QR Code, or with a "zero-touch" wireless method.
Assuming US Customs and Border Protection doesn't seize all the stock, we'll find out whether the OnePlus 8T follows suit next month. ®
Similar topics