This article is more than 1 year old
Ports in a storm: The Matebook 14 won't set your world on fire, but it's still a half-decent laptop
Why is it that ultrabook-makers can't give us more places to stick our USBs?
Review September didn't bring any new Huawei phones, but it did manage to push out a crop of new laptops, including an updated Matebook 14 2020. This machine could be described as a humble mid-ranger, but that would largely be missing the point.
On a fundamental level, it's a business computer with productivity at its heart. And while it doesn't have the corporate vestiges of, say, a Lenovo ThinkPad, it's nonetheless a charming and perfectly functional lappy.
El Reg got its talons on a unit earlier this month. The flavour provided was the top-tier model, touting an AMD Ryzen 7 4800H and a price-tag of €1,059 (UK pricing has not yet been announced). It comes with 16GB of RAM and 512GB of storage. There's also a cheaper model which uses the slower Ryzen 5 4600H chip, and starts at €859.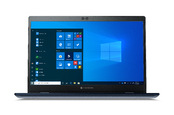 Toshiba formally and finally exits laptop business
READ MORE
As you'd expect from a business machine, there's no sight of a discrete graphics card — although the Ryzen's integrated graphics proved more than capable for low-intensity tasks. It does, however, come with a generous collection of ports, allowing a reprieve from dongle hell.
Yes, there's a USB-C port, which also doubles as the laptop's power socket. In addition, you get two USB-A ports, HDMI, and a 3.5mm headphone jack. In practice, this means you can plug in a keyboard or charge your phone without any real faff. That's something you can't take for granted in 2020, and something that gives this machine an edge against competing ultrabooks in the price category.
The display uses a 3:2 aspect ratio, making it well-suited for running two apps within the same window without things feeling squished. In your reviewer's case, I'm writing this in a word editor while also chatting to my colleagues on Slack. Productivity.
Specs
The Matebook 14's touch-sensitive screen is a 1440p affair — not the highest resolution we've ever seen, but nonetheless a measurable upgrade from 1080p. We were also impressed with the oleophobic coating, which meant that it didn't become a smudgy, fingerprint-ridden mess within seconds. It proved sufficiently bright for outdoors usage, with excellent viewing angles and little glare on the few sunny days Liverpool experienced this month.
Surrounding it are satisfyingly tiny bezels. That said, those diminutive borders come at the expense of having a webcam buried within the function keys of the keyboard. As we've repeatedly griped in the past, this isn't especially ideal for videoconferencing, as it means the camera is pointed upwards towards your chin (or, in my case, chins), and thus doesn't offer the most flattering of angles.
Still, the keyboard is excellent, and is largely unchanged from previous Matebook models. Travel remains consistently excellent, and the layout is generously spaced out, making touch-typing comfortable. And to Huawei's credit, it actually sent an English keyboard this time. It's the little things, ain't it?
The Matebook 14 2020 also comes with a fingerprint reader that's integrated into the power button, located just above the function keys. In our experience, this proved accurate and highly responsive. The trackpad is similarly excellent, with plenty of real-estate to move around, as well as comprehensive gesture support.
In a head-to-head heat with other devices in its category, it's hard not to recommend the MateBook 14 2020. Yes, it's a largely iterative update on the previous model, but it also manages to get the fundamentals right. The screen and keyboard both lend themselves to productivity-focused tasks, while the processor is sufficiently nippy for a bit of casual gaming on the side. After all, all work and no play makes Jack a dull boy.
Overall, I'd gladly recommend this over, say, the Dynabook Portege X30L-G, which we reviewed in August. That said, the MateBook 14 2020 isn't nearly as compelling as the Honor MagicBook Pro, which undercuts this machine on price, yet comes with a much larger display. ®