By the beard of Zeus! Arm takes another tilt at serious servers with SVE-capable 96-core Neoverse V1
Also makes itself denser, in a good way, with 128-core N2 upgrade
Arm is taking another serious tilt at server silicon with new designs that incorporate the Scalable Vector Extensions (SVE) beloved of HPC and machine-learning types.
The Nvidia-stalked chip designer's newest offering is the Neoverse V1 – code-named Zeus – which will offer up to 96 cores per socket, all with SVE support. Arm says the V1 offers its best performance-per-core rating, and is available for licensing now. System-on-chip makers get to decide the clock speed and process node – 7nm or 5nm, say – so YMMV once silicon actually goes on sale and into machines.
Arm has also updated its Neoverse roadmap to include the 5nm N2, which can pack up to 128 cores per socket, and is due to land next year. Arm claims this is its best performance-per-socket offering.
Chris Bergey, the processor architect's senior veep and general manager for infrastructure line of business, said cores-per-socket matter because IT buyers care about compute density and power consumption.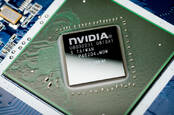 UK govt urged to bolt tough legal protections onto Arm and protect jobs – or simply veto Nvidia's £31bn acquisition
READ MORE
Arm's first tilt at the server market saw it promote its CPU cores' lower power requirements, Bergey explained, though rival microprocessor designers had such a software ecosystem head start that cloud builders and other clients stuck with what they knew.
Today, Arm reckons hyperscalers are tired of building new bit barns or needing extra power, and want more cores per rack. Power-sipping Arm cores capable of heavier lifting are therefore attractive. 5G also makes the case for more cores compelling, Bergey argued, because running a virtualized network needs lots of compute in lots of tight spots.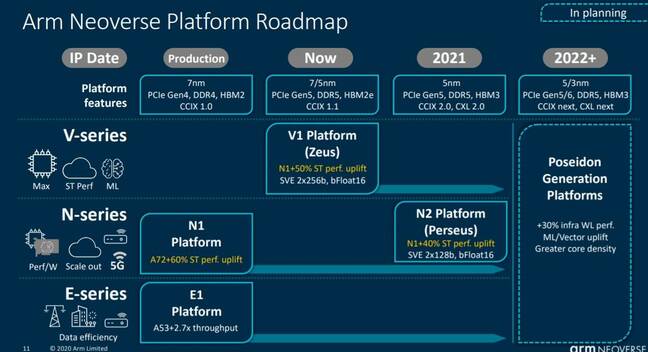 Arm's roadmap. Click to enlarge
In a full rack consuming 12 or 15 kilowatts, Bergey reckoned Arm Neoverse users can score up to 40 per cent higher core count and double the raw compute power rivals can offer.
That the N2 and V1 are more capable hardly hurts. The biz claimed the N2 improves single-core performance by up to 40 per cent compared to its predecessor, and that the V1 performs 50 per cent better than first-generation N1.
Arm hopes AWS, FOSS, cloud-native combo will wrestle you onto its architecture
READ MORE
Arm being Arm, it's up to licensees to put these cores to work. But the outfit thinks it now has a story that will satisfy clients from the data center to the edge, all on the same architecture, and that the work it has done to ensure CI/CD teams can work with its hardware means users can now contemplate coding and deploying for an all-Arm stack.
Bergey told The Register he thinks access to silicon won't be an issue – he said TSMC is on top of its 5nm process so V1 and N2 units should roll off the production line without duress.
All that's missing now is you. And as Bergey has pointed out, now that AWS can rent you an Arm-powered Graviton for pennies, it's harder to find an excuse not to at least play with Arm in the cloud. Or maybe it'll be best to wait for whatever Nvidia does with the British chip design house. ®