This article is more than 1 year old
Cisco bets on real-world events with overseas audiences resuming in late 2021
Branded tat and disrupto-talks could return - albeit nine months later than usual in Oz plague capital
Cisco has invited its faithful to travel abroad to a mass-attendance event in December 2021.
The Register today received an invitation to Cisco Live Melbourne on December 7th in the year 2021. The invitation uses the hashtag #CiscoLiveAPJC – shorthand for Australia-Pacific Japan & China – and includes a calendar marker that lists the Melbourne Convention Center as its location.
Cisco Live Melbourne has previously been a regional event and usually attracts crowds of over 5,000 delegates. The 2020 edition of the event was scheduled for March 3rd and its sudden cancelation was among the first signs that the pandemic was going to have a big impact on both IT and wider community.
The networking giant now seems content to schedule the 2021 edition of the event nine months later than is usual.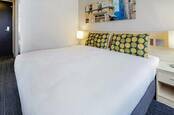 DBA locked in police-guarded COVID-19-quarantine hotel for the last week shares his story with The Register
READ MORE
Even 15 months out from the big day the schedule seems optimistic because Australia's border are all-but-closed and local airlines have suggested their international operations are unlikely to resume until mid-2021. Even some internal Australian State borders are currently closed, with movement between states permitted only after two weeks in quarantine.
Melbourne itself is a prime reason for those restrictions. Australia's second-most-populous city became by far the nation's worst coronavirus hot-spot after a second COVID-19 wave saw several hundred new cases of COVID-19 (among a population of 6.6 million) were detected each day for more than a month. A new lockdown closed schools and businesses, prohibited non work-related movement more than five kilometers from home, imposed an 8PM curfew on all residents and restricted time outside the home to one hour a day.
Those restrictions eased a little in recent days and just 11 new COVID-19 cases were recorded yesterday.
But Melbourne, and the rest of Australia, currently have no detailed roadmap for full resumption of internal travel, never mind how to welcome international delegates without requiring a quarantine period three times longer than Cisco Live itself!
In a second mail to The Register Cisco therefore characterised the email sent today as a "save the date" for the event rather than confirmation it will proceed as an in-person affair.
"The format of the event and participant profile will depend on the status of the COVID-19 pandemic, official guidelines and medical advice at that time. We will continue to monitor the situation closely and will make further decisions over the coming months as appropriate."
Cisco nonetheless seems confident that by December 2021 it will again be able to fill a convention centre with people from around the region, lecture its faithful about how networks enable digital transformation, feed them not-quite-warm-enough and oddly tasteless stews and ply them with branded tat.
We can hardly wait. ®