Ignite Microsoft's Spatial Analysis, announced at its Ignite virtual event today, uses artificial intelligence to count the number of people in a room and monitor social distancing.
Spatial Analysis is a feature of Redmond's Cognitive Services, a raft of machine-learning tools intended to be easy to deploy. Although this collection is part of the Azure AI platform, which typically allows customers to define their own neural networks, "Cognitive Services are our own models that customers can deploy," said director of Azure AI product marketing Bharat Sandhu. "We've also invested in pre-built cognitive services with other business logic around it, to help solve specific scenarios." This means that using one of these online services does not require deep data science nor machine-learning expertise.
The Spatial Analysis toolkit seems directly inspired by the ongoing COVID-19 virus pandemic. Suddenly, most of the world has developed a keen interest in how close together people are, especially indoors. Microsoft's platform is on hand to, it is hoped, power applications that can monitor video cameras and flag up moments when folks are spending too much time too close together.
According to Sandhu, Spatial Analysis is "an advanced machine-learning model that aggregates data from multiple camera feeds. Customers can use this technology to do three things. One is to count the number of people. Second, it measures the distance between people. And third, it looks at wait times, such as how long people are waiting in a queue."
This last feature is not so much implemented with the pandemic in mind, but rather for scenarios such as queues at cash registers, or assessing the effectiveness of a display or advertising board by measuring how long people look at it. The system could also be used for automated alerts when people approach too close to a point of danger, such as dangerous equipment in a factory.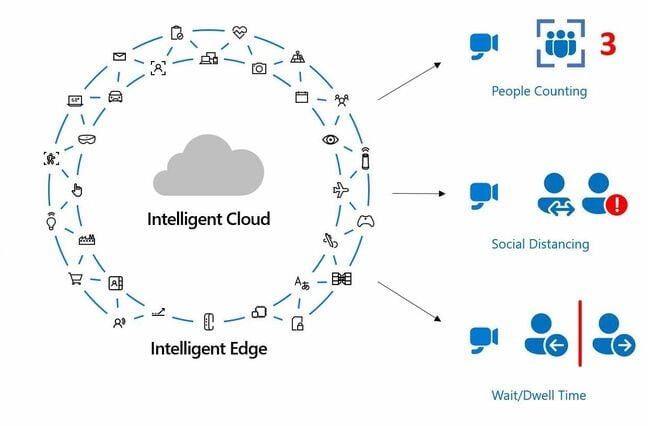 Spatial Analysis' capabilities: Counting people, measuring social distancing, monitoring wait time ... Source: Microsoft
Microsoft delivers Spatial Analysis in the form of a containerized application, which can be run on the Azure cloud or on-premises, such as using Azure Stack Edge. It is likely that using an edge-of-network device makes the most sense, to avoid transmitting large amounts of data over the internet or corporate infrastructure. "It works great on Azure Stack Edge with two Nvidia T4 GPUs," Microsoft told us. The T4 units are deep-learning accelerators with Turing Tensor Cores. The system supports five camera streams for tracking "up to 100 subjects for each Nvidia T4," the Windows giant added.
The IT titan said "heavy performance improvements" are planned for the next release. Cameras have to be 720p resolution or better. The processing is "distributed between edge and cloud," so it's not a totally offline architecture.
Customers can set video retention rules, "allowing you to only stream content to Azure Storage on specific events like detecting objects in a specific zone in the video frame," the biz told us. "This allows you to have certain video retention rules on the edge with a separate set of retention rules for the cloud making cloud video storage economical."
Responsible AI practices and guidelines for safe use are infused into Azure AI's services
Microsoft characterizes Spatial Analysis as a spooky-sounding "people analytics" toolset, and there are potential privacy and/or ethical issues around this type of service. It is notable that customers for Spatial Analysis, which is in preview, have to request approval to run the container, as it is categorized as a "gated service." Clients are required to have a "valid business scenario" for using the technology, and applications can be denied if Microsoft reckons you're up to no good.
Regulation of the service is therefore a combination of relevant legislation and Microsoft's vetting procedure, though the exact criteria required for approval is not explicit. "Responsible AI practices and guidelines for safe use are infused into Azure AI's services, such as Spatial Analysis, to ensure personal privacy, transparency, and trust," said veep Eric Boyd. Fine words, but it is all rather opaque.
Alongside Spatial Analysis, Microsoft also unveiled Metrics Advisor, a preview service for real-time monitoring of data, such as factory processes to identify anomalies and bottlenecks, and the general availability of the no-code Azure Machine Learning designer, a drag-and-drop tool for creating custom models. ®