The history books will remember that the first tech company to release a foldable phone wasn't any of the usual suspects but rather a little-known Chinese outfit. Sure, Royole's Flexpai was universally panned, but that hasn't deterred it from releasing a 5G follow-up.
Available from today in China, with a starting price of ¥9,998 or roughly £1,150, the Royole Flexpai 2 is substantially different from its predecessor. Aside from the core specs, the biggest change is an improved hinge – called the Cicada Wing 3S – which is purportedly less prone to creasing. According to the firm, this new hinge ensures the screen remains smooth after 1.8 million folds.
Of course, if it holds up under that number, that's just one facet of durability. Foldable displays aren't known for their hardiness. They're typically made of plastic, or a glass-polymer hybrid, rather than the Gorilla Glass on regular phones. As a result, they're laughably easy to scratch. In some cases, it's proven possible to leave indelible marks on the display with the pressure from a fingernail. It's not clear whether Royole has addressed this aspect in its updated mobe.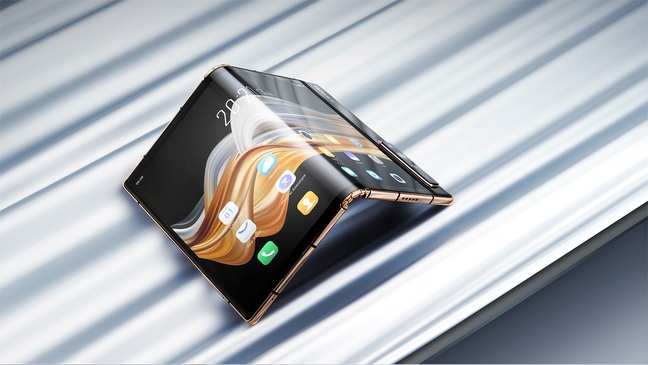 Unfurled, punters get a 7.8-inch display with a 4:3 aspect ratio and a (relatively low) 1920x1440 resolution. That gets less competitive when you remember that the device will be folded over most of the time.
To the left of the display are an array of cameras, including a 64MP primary shooter, a 32MP portrait lens, a 16MP ultra-wide angle lens, and a 8MP telephoto camera for long-distance photography. On the processor front, you get a Qualcomm Snapdragon 865 platform with either 8GB RAM and 256GB of internal storage, or 12GB RAM and 512GB internal storage. This is accompanied by a 4,450mAh battery with support for 18W USB-C fast charging.
The Flexpai 2 runs Android 10 skinned with the firm's custom software, WaterOS 2.0, which it claims is designed for dual-screen productivity, allowing you to run multiple apps concurrently within the same screen real estate. It's not clear if and when Royole is eyeing an international release for the phone.
Royole's inaugural foldable phone earned unintentional notoriety last year when it was rebranded as the Escobar Fold by the brother of the eponymous drug kingpin. That turned out to be a scam. Punters who paid $350 for the Escobar Phone ended up being stiffed, instead receiving a book.
Escobar Inc subsequently followed up with a second Escobar Fold phone, this time based on the Samsung Galaxy 2. Again. While they did ship a handful of devices to YouTube influencers and other online unpackers who slavishly heaped praise on what was almost certainly a scam, ordinary people who pre-ordered again didn't receive the devices they paid for. ®