Onwards! To the airport and adventure! And this rather lachrymose Linux screen
No flight info, no adverts, just blackness...
Bork!Bork!Bork! In these troubled times, it can often feel like there is no escape. Even an airport, once a gateway to adventure, now shows only a blank screen and, of course, bork.
Its ubiquity makes Windows a common culprit, but today's entry in the is Linux-tinged and comes from a Scottish airport. It was snapped by Register reader Bob Madden, who found himself lucky enough to have made it as far as the departure lounge.
Slung from the ceiling is, alas, a screen of Linux despair. Rather than flinging advertisements or departure information at those excited by the prospect of actually boarding an aircraft and going somewhere, all Ubuntu has to offer is a display of purest black.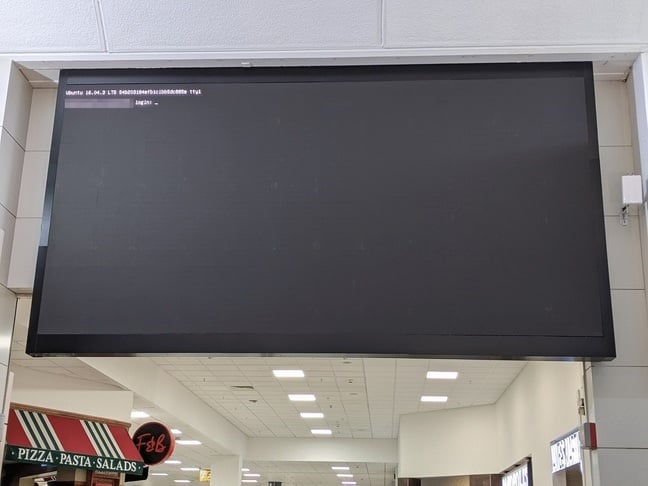 Ubuntu 16.04 was released in 2016 and, being a Long Term Support (LTS) edition, will see security maintenance from the Canonical crew until 2024. Standard support expires in 2021. Dubbed Xenial Xerus by those crazy guys, it has since been superseded by the 18.04 LTS, Bionic Beaver, and, most recently, 20.04 LTS (aka Focal Fossa). The latter will see affection from Canonical until 2030 rolls around, by which time we can but hope normality will have returned to the departure lounge.
We also can't help but note the version is 16.04.3 LTS. While the "if it works, don't fsck with it" maxim is understandable for digital signage, Canonical has continued updating the distribution. The most recent, 16.04.7, dropped in August and featured all manner of tweaks and fixes for the ageing operating system.
Something, however, is amiss with this incarnation of Canonical's finest. Ubuntu is in a holding state until somebody logs in and starts things up, and travellers are left pondering the meaning of it all and whether they will ever reach their destinations.
A fine metaphor for 2020, which, when we kicked off this feature, we had no idea would become the most borked year of recent times. ®