This article is more than 1 year old
Ex-eBay global intel staffers to admit they cyberstalked online tat bazaar's critics – who got pig heads, funeral wreath, and more in the mail
Four to plead guilty, accused senior bosses insist they weren't involved
Four of the seven former eBay employees charged with cyberstalking a couple critical of the web auction house are scheduled to plead guilty next month.
In June, the US Justice Department charged six former staffers – director of safety and security James Baugh, 45, of San Jose, California; director of global resiliency David Harville, 48, of New York City; manager of global intelligence Stephanie Stockwell, 26, of Redwood City, California; and eBay Global Intelligence Center staffers Stephanie Popp, 32, Veronica Zea, 26, and Brian Gilbert, 51, all of San Jose – with conspiring to commit cyberstalking and tamper with witnesses.
The US Attorney's Office of Massachusetts on Wednesday said four former eBay employees charged in that case plan to admit guilt at a video conference hearing scheduled for October 8, 2020.
A spokesperson for the USAO of Massachusetts confirmed to The Register the four individuals are Brian Gilbert, Stephanie Popp, Stephanie Stockwell, and Veronica Zea. The cases against the two most senior executives in the group, Harville and Baugh, remain ongoing; both deny the accusations.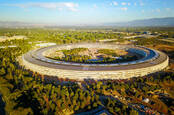 California man served with restraining order for allegedly 'stalking' Apple CEO Tim Cook
READ MORE
In July, a seventh former eBay employee, former Santa Clara police captain Philip Cooke, 55, who oversaw security operations at eBay's offices in Europe and Asia, was charged separately for alleged involvement in the harassment campaign.
The defendants are said [PDF] to have participated in a concerted effort to intimidate and silence a husband and wife team who run an ecommerce-focused newsletter and blog in a campaign last year.
eBay executives, court documents state, didn't like seeing unflattering reports about the company, such as its decision to build an expensive replica of a Manhattan bar, Walker's, on a corporate campus.
The complaint cites a text between two unnamed members of eBay's executive leadership team as saying, "We're going to crush this lady."
And it describes a harassment effort that consisted, among other things, of sending the newsletter publishers live cockroaches, the head of a fetal pig, a funeral wreath, a mask of a bloody pig's head, and a book on surviving the loss of a spouse.
Unasked
Bloomberg suggests the recipient of that text message, "Executive 1," is former CEO Devin Wenig, based on the similarity between a newsletter article quoted in the complaint, "eBay RICO Lawsuit Meant to Curb Seller Exodus to Amazon?" and an article with the same headline on the EcommerceBytes Blog that refers to Wenig.
The affidavit outlining the case cites text identical to the online article except that it replaces "eBay CEO" with "[Executive 1]". Wenig has not been charged with any wrongdoing.
eBay declined to comment. A spokesperson pointed to the company's statement from June 15, 2020, which maintains that the company took prompt action upon learning from law enforcement in August 2019, about the harassment campaign.
The company said at the time that it looked into whether former CEO Devin Wenig, who stepped down – or as Bloomberg put it, "was fired," in September 2019, played a role in the alleged cyberstalking.
"The internal investigation found that, while Mr Wenig's communications were inappropriate, there was no evidence that he knew in advance about or authorized the actions that were later directed toward the blogger and her husband," eBay said. ®