This article is more than 1 year old
Huawei chairman says tech giant's goal is 'survival' as it battles 'non-stop aggression'
Releases new Intel-powered server as Chipzilla confirms it won a license to sell .... stuff it won't discuss
Updated Huawei rotating chairman Guo Ping has opened the Chinese giant's annual Connect conference by saying the manufacturer's goal right now is "survival."
"Huawei is in a difficult situation," Guo said, according to the simultaneous human translation of his speech during the event. "Non-stop aggression has put us under pressure and we are still assessing the impact," he added.
"Survival is the goal."
And with that, albeit without naming the source of the aggression, Guo outlined Huawei's plan to link 5G, cloud, AI and other technologies to do things like building smart cities and other digitally transformative projects that Huawei thinks demonstrate how blending technologies adds value. In that vein he outlined ambitions to expand Huawei's cloud and develop machine-learning-powered management tools for government clients.
But to do so Guo acknowledged that Huawei may have to change its ways. "We have to adapt our software to x86 and [Huawei's Arm-based] Kunpeng," he said, promising more details over the course of the conference.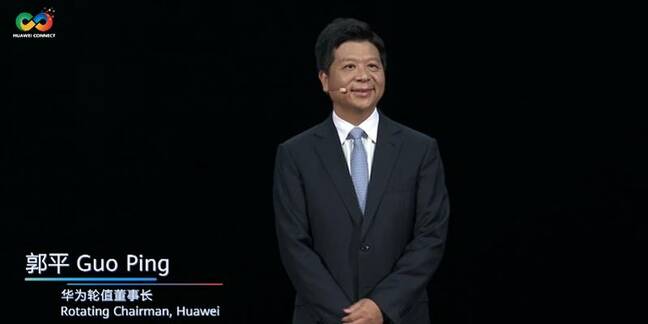 Huawei rotating chairman Guo Ping delivers his keynote ... Click to enlarge
The chairman next likened Huawei to early electricity companies, saying that just as electric power started out with applications like lightbulbs and then quickly revolutionized every industry, those who tap Huawei's innovations or become its partners will thrive.
Then he returned to Huawei's troubles, saying the biz has "encountered great pressure."
"They attacked our supply chain. But Huawei will do everything we can to strengthen our supply chain and make our supply chain robust," the chairman said.
Guo wrapped up with a Walt Whitman quote: "Keep your face always toward the sunshine, and shadows will fall behind you." Acknowledging that 2020 has been an extraordinary year – without mentioning the novel coronavirus – he said Huawei will keep its face towards the sun.
And also keep making Intel-powered servers. The night before Guo's speech, the Chinese goliath announced a new generation of its FusionServer Pro hardware. The new machines feature third-gen Xeon Scalable processors in a 2U box, with up to 48 DDR4 DIMMs and 11 PCIe slots plus Optane memory support.
The third-gen Xeon Scalable series – aka Cooper Lake – was launched in June, and its inclusion lends credence to a Tuesday wire report that stated Intel has won a fresh export license from the US government to sell some components to Huawei. ®
Updated to add
Shortly after this article was published, Intel sent The Register the following statement:
Intel can confirm it has been granted licenses for certain products by the US Government but will not share details of what products, or any other details on the licenses.
The Federal Register – the US government's log book of sorts – hasn't mentioned Intel of late, so it appears the license is not on the public record. We'll keep clawing at the matter. ®