This article is more than 1 year old
Nokia rolls out midrange 5G mobile, but will struggle to fight off Motorola and pals. Plus: New platform for suits with bulk-ordered SIMs
Also two new budget blowers including £99 MicroUSB unit
His gender politics are questionable. He drinks like Gazza. Put him behind the wheel of a sports car and watch him break every rule in the highway code.
We could be talking about any number of Silicon Valley tech execs, but we're actually referring to famed fictional Brit spy James Bond, who will be touting HMD Global's latest Nokia 8.3 5G mobe in his next big-screen romp.
First announced earlier this year, the Nokia 8.3 is the Finnish startup's inaugural effort in the 5G space, touting compatibility with all existing bands.
As we've previously pointed out, HMD Global aspires to push Nokia into the brand's historical strongholds in Latin America and Africa, where it can use residual brand equity and relatively cheap devices. Universal network support will therefore prove helpful.
To recap, the Nokia 8.3 comes with a Snapdragon 765G chipset. HMD Global offers two choices in terms of storage and RAM: the entry-level comes with 6GB RAM and 64GB internal storage. Pay a bit extra, and you can double your storage and bump the RAM to 8GB.
As is custom with high-end Nokia devices, the camera apparatus uses ZEISS lenses. The primary sensor is a 64MP affair. There's also 12MP ultrawide, a 2MP macro, and 2MP depth sensors – but sadly, no telephoto lens. For the front-facing camera, HMD has opted to use a 24MP sensor.
HMD has opted for a large 6.81-inch display on the Nokia 8.3 5G, with a 21:9 aspect ratio, which promises to lend itself favourably to productivity-focused busywork and watching movies. Sadly, the refresh rate is an uncompetitive 60hz. At least there's a 3.5mm headphone jack.
As is custom with Nokia's mobes, it also uses a relatively untainted version of Android, and is part of the Android One programme, which guarantees a steady flood of security patches and software updates.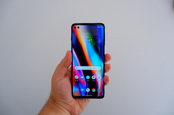 Motorola Moto G 5G Plus: It won't blow your mind, but at £300 we're struggling to find much to grumble about
READ MORE
On paper, this is a solid device. But having been delayed for almost six months since its initial announcement, one can't help but feel HMD Global has missed the boat. The Nokia 8.3 was announced when 5G phones were somewhat of a novelty, with punters paying a premium. That isn't really true at this point. And priced at £499, it's far more expensive than the Motorola Moto G 5G Plus and the OnePlus Nord. And not even a healthy dose of product placement can change that.
For the kids? The Nokia 3.4 and 2.4
Coinciding with the availability of the Nokia 8.3 are two new budget blowers, priced below £200 and £100 respectively.
The Nokia 3.4 is the best performing of the duo, using a octa-core Qualcomm Snapdragon 460 chipset. This is paired with 3GB RAM and 64GB of storage, with support for microSD cards. The display is a relatively generous 6.39-inch affair, albeit at a grainy 720p resolution. Unusually for a budget phone, the 8MP selfie camera is housed in a hole-punch, rather than the more common notch.
The rear camera apparatus is a 13MP affair, accompanied by a 5MP ultrawide lens and a 2MP depth sensor. Charging comes via a USB-C port, and the 4,000 mAh battery supports up to 10W fast charging. When this device hits UK shelves in October, it'll retail at £129.
And then there's the Nokia 2.4, which costs £99. Paradoxically, this cheaper device comes with a larger 6.5-inch display and a moderately bigger 4,500 mAh battery. That said, there's other cost-cutting measures found elsewhere that allowed HMD Global to hit this sub-£100 price point.
Forget USB-C. This uses the antiquated MicroUSB format, which doesn't support proper fast charging. There's just 2GB of RAM and 32GB storage. And the chipset is a sleepy MediaTek Helio P22. The camera similarly sees a major downgrade, with the 13MP sensor accompanied by a bog-standard 2MP depth sensor. Meanwhile, the 5MP selfie camera sits in a notch.
At least there's a fingerprint reader, located below the camera. The inclusion of NFC is handy too, permitting mobile payments – a must in this pandemic era. Like the Nokia 3.4, this will hit shelves in October.
Connect... and (optimistically) travel
Aside from the usual consumer fare, HMD Global also unveiled its newest enterprise roaming service: HMD Connect Pro. Aimed at IoT and business customers, the service lets users bulk-order SIM cards, which can provide cellular connectivity across over 160 countries. SIMS are managed from a central console, allowing businesses to keep track of costs and remotely maintain deployed SIM cards.
The Connect Pro console allows SIMs to be activated and disconnected remotely, without having to spend hours on the phone waiting for the intervention of the provider. There's also an element of analytics, allowing for the real-time tracking of costs, paired with automatic triggers that can be actioned when a certain condition – like an overspend – is met.
While there's little appetite for business travel due to the current pandemic conditions, HMD Global expects this platform to form the basis of distributed IoT devices which may not have access to a traditional fixed-line broadband connection.
This isn't HMD's first foray into the enterprise; the mobile vendor is a member of Google's Android Enterprise Certification programme, guaranteeing remote management and a commitment to security updates in addition to that mandated by the Android One program. ®