This article is more than 1 year old
It's powered by a mega-corp AI, it has a Liquid Mode, but it's not a T-1000. It's Adobe's PDF auto-reflow for mobile
If you find yourself wrestling with big docs on small screens, Photoshop maker's iOS, Android apps may be able to help
Adobe has introduced Liquid Mode into its PDF reader for Android and iOS, the intent being to make reading PDF documents on mobile a less painful experience.
Adobe's Portable Document Format (PDF) dates from 1993, based on the PostScript language used to describe documents accurately to printing. A PDF document should as far as possible look the same on-screen and when printed, down to the last hyphen and the exact position of a caption under an image.
This makes it ideal for proof-reading documents before printing, and for digital documents where preserving layout is important. The ability to view PDFs on any computer, and the fact that it is primarily a read-only format, won PDF wide use for document transmission beyond the print industry, and Adobe built on its success with sophisticated document management and workflow systems.
The software giant says that there are more than 2.5 trillion PDFs out there, and that the demand for digital everything, stimulated perhaps by the coronavirus pandemic lockdown, has increased use of its PDF-based services such as Adobe Sign. But there's a problem: it's not great with multi-screen digital environments, where documents should adapt according to the size and resolution of the display.
On the web we now expect a responsive layout, but PDFs remain stubbornly fixed. Tapping or double-clicking a PDF all too often renders it too small to read, and when zoomed to a readable size horizontal scrolling may be necessary.
Earlier this month usability veteran Jakon Nielsen described PDF as "still unfit for human consumption, 20 years later." Explaining, he said "PDFs are typically large masses of text and images. The format is intended and optimized for print. It's inherently inaccessible, unpleasant to read, and cumbersome to navigate online. Neither time nor changes in user behavior have softened our evidence-based stance on this subject."
Teach me, Sensei
As if it had read his mind, Adobe has now introduced a new mode for its Acrobat Reader which is intended to overcome these exact issues. Called Liquid Mode, the service uses AI – Adobe's Sensei service – to reformat the document – the artificial intelligence being called upon to parse the structure of a document, what is a heading, what is body text and so on. Liquid Mode is now available in Reader for iOS and Android, and is promised for desktop Reader and for web browsers (though many browsers have their own built-in PDF readers).
The effect is that the document automatically becomes responsive, reflowing to fit the screen, and with options to control the font size and line spacing. Pinch to zoom no longer works, but instead users can tap Settings according to preference, with no need for horizontal scrolling.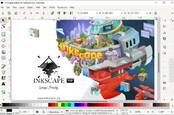 Adobe Illustrator's open source rival Inkscape delivers v1.0.1 - with experimental Scribus PDF export
READ MORE
Adobe says Liquid Mode is but the beginning of a new PDF era "Imagine using AI to replace months of intensive document research with a quick query that cross-references millions of PDFs in your organization at once," it says, seemingly on a similar path to Microsoft which unveiled SharePoint Syntex at Ignite, also for intelligent document categorisation with AI.
Adobe promises to bring "more Adobe Sensei technology into all of our document products and services." With regard to PDF, Liquid Mode is the start of an effort to give people tools "to view and extract content from PDFs, without changing the PDF itself."
We took a quick look at Liquid Mode on iOS. The good news is that it works as advertised, on documents that it supports. There are some downsides though.
First, to enable Liquid Mode users have to sign in to Adobe's cloud. Liquid Mode sends content to Adobe in order to process it, raising the usual concerns about privacy, particularly since Adobe is also a big player in digital marketing and personalisation - though there is no suggestion that it is using Liquid Mode content for this purpose and the company says, "files are processed in our secure data servers and immediately deleted after the experience is generated."
We soon discovered some limitations. Presented with a complex PDF containing multiple tables, Reader declared that "Liquid Mode isn't yet available for this file" and pointed us to this document which has a more sober assessment of the feature than the company's breathless press release.
Files cannot use Liquid Mode if they are more than 200 pages long, more than 10MB, scanned, converted from presentations, or contain "complex layouts" such as tables and charts, invoices, statements and receipts, forms, or "non-standard page sizes".
Sensei, it seems, prefers more straightforward documents. Understandable, but it means that the pain of PDF, especially on mobile, is not altogether over yet. ®