This article is more than 1 year old
Epic, Spotify, ProtonMail and pals rise up as one against Apple's 30% cut, call for end to Cupertino-style markets
This revolution will be televised... on the internet
Thirteen software and media companies - including Epic Games, Spotify, and ProtonMail - have founded an advocacy group to push back against tech platform gatekeepers, primarily Apple.
The Coalition for App Fairness, a nonprofit launched on Thursday, intends to lobby for changes in tech platform policies, largely focused on reforming the regime Apple imposes on iOS developers. iOS developers, unlike Android developers, have no way to distribute their apps without Apple's approval.
"Big Tech companies are abusing their status as gatekeeper to app stores, shutting down innovation, applying exorbitant taxes on developers, censoring the materials users can access, and arbitrarily changing the rules developers must follow in order to maintain market access," said Andy Yen, founder and CEO of ProtonMail, in a blog post. "Apple's App Store is hurting consumers in many ways and its practices have triggered investigations in Brussels, Washington, and elsewhere."
Since Apple's Worldwide Developer Conference in June, the iPhone maker has faced a series of challenges from software makers chafing at the costs and restrictions imposed by Apple's App Store Review Guidelines.
Just before WWDC, Basecamp, now a member of the CAF, publicized its dispute with Apple over the iOS overseer's insistence that it receive a 30 per cent cut of subscriptions for the company's Hey email service and associated app.
Around the same time, just after European regulators announced an antitrust inquiry into Apple's App Store management, Microsoft president Brad Smith voiced his concern about the monopoly power of Apple and Google.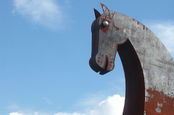 Apple takes another swing at Epic, says Unreal Engine could be a 'trojan horse' threatening security
READ MORE
Apple threw developers a bone at WWDC by announcing an app review appeals process and a way to challenge the fairness of its guidelines – a web form that allows registered developers to submit suggested rule changes, without any specified evaluation process other than the promise of an email confirming that the suggestion has been received.
Despite these gestures, the discontent has continued to simmer, stirred by competitors tired of Apple's 30 per cent cut, people's unease about the civic impact of social media and technology platforms, and politicians sensing that discomfort and looking for ways to intervene while advancing their respective interests.
In July this resulted in the US House Judiciary Committee's antitrust subcommittee hearing from the CEOs of Apple, Amazon, Facebook, and Google on the subject of their market dominance.
During his testimony [PDF], Apple CEO Tim Apple Cook defended its App Store management, citing figures about jobs and revenue generated.
"After beginning with 500 apps, today the App Store hosts more than 1.7m – only 60 of which are Apple software," he said. "Clearly, if Apple is a gatekeeper, what we have done is open the gate wider. We want to get every app we can on the Store, not keep them off."
Nonetheless, Apple booted Epic Games' Fortnite from the App Store last month after the game maker deliberately defied Apple rules requiring it to use its in-app purchasing system, prompting a lawsuit. And Apple's rules also forced the iOS Facebook Gaming app to launch without games.
According to Yen, Apple's control has become intolerable. "There is a growing consensus among app developers that something needs to be done and a realization that we can only be effective if we work together," he said. "That's why we have decided to join the coalition and to work together to create lasting change."
The CAF has declared 10 principles that it hopes to see Apple and other tech platforms adopt or to have forced upon them through legislative action. These include:
"Every developer should always have the right to communicate directly with its users through its app for legitimate business purposes."
"No app store owner or its platform should engage in self-preferencing its own apps or services, or interfere with users' choice of preferences or defaults."
"All app stores will be transparent about their rules, policies, and opportunities for promotion and marketing, apply these consistently and objectively, provide notice of changes, and make available a quick, simple, and fair process to resolve disputes."
"No developer should be required to pay unfair, unreasonable, or discriminatory fees or revenue shares, nor be required to sell within its app anything it doesn't wish to sell, as a condition to gain access to the app store."

"A developer's data should not be used to compete with the developer."
The principles sound reasonable if you accept the premise that something needs to be done. But it's not obvious these goals can be translated into specific language that both ensures neutrality and prevents unscrupulous developers from creating privacy-violating or malicious apps.
The Register asked Apple to comment. We've not heard back. ®