This article is more than 1 year old
Azure DevOps Services reminds users that, yes, it really is time to pull the plug on Internet Explorer 11
Sure, it's still wedged in the OS, but maybe you'd prefer something shiny and Chromier?
Ignite Microsoft used the Ignite product singalong to reassure customers that its veteran Internet Explorer 11 browser would remain supported while also urging users to nuke the thing from orbit. It is, after all, the only way to be sure.
"Some of our web properties are not going to support IE in the 2021 timeframe," explained Colleen Williams, program manager for Microsoft Edge, in her State of the Browser in 2020 session, "that doesn't mean that IE11 is going anywhere. It is still a part of the OS and will continue to be supported on the life-cycle of the OS on which it is installed."
But please, it really is time to move on.
The Azure DevOps Services team has joined the chorus of "burn it" with a notification that the toolchain would be dropping support for IE11 beginning 31 December 2020. Support for the original Edge browser that shipped with Windows 10 (and now referred to as "the legacy version of Microsoft Edge") is also for the chop.
Sticking with the unloved browsers after that date will result in what Justin Chung, director of product management at GitHub, delicately referred to as a "degraded experience".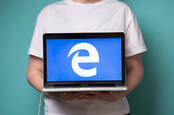 In a world where up is down, it's heartwarming to know Internet Explorer still tops list of web dev pain points
READ MORE
Microsoft Teams will kill off support a month earlier on 30 November 2020, while engineers working on Microsoft 365 will have to keep on thinking about IE11 until 17 August 2021, at which point the sense of relief will be palpable as the plug is finally pulled.
Interestingly, while both Chung and Williams were keen to insist that IE11 itself would be supported by Windows (along with all those funky web apps enterprises have come to depend on) and "follow the Lifecycle Policy for the product on which it is installed", Microsoft's pre-Chromium crack at a browser will breathe its last with a deprecation for all versions of Windows 10 on 9 March 2021.
Internet Explorer mode in Chromium Edge, to keep legacy enterprise web apps up and running in a world free of IE11, put in an appearance during 2019 and, despite its protestations of OS support for the slightly whiffy browser, the future for Microsoft's take on the browser is most definitely Chromium-shaped.
In response to a question from The Register on what browsers would be supported by its whizzy new real-time communications platform, Azure Communication Services, the company revealed just how Chromium-focused things were nowadays.
While IE11 was unsurprisingly absent from the supported browsers list for audio and video calling in the service, we were a little saddened to see no love for Firefox at this stage, or even Edge on Android. It was Chrome all the way (with the addition of "new Edge" for Windows and Safari 13.1+ of macOS). ®