This article is more than 1 year old
Now Nvidia's monster GeForce RTX 3090 cards snaffled up by bots, scalpers – if only there had been a warning
If at first you don't succeed, fail again
Geeks eager to nab Nvidia's GeForce RTX 3090 graphics cards were left disappointed after all the stock on the tech giant's online store was snatched up almost instantly when the cards went up for sale on Thursday.
The hardware is also sold out from major retailers, such as Newegg and Best Buy. Websites struggled to process high volumes of order requests, and an influx of bots quickly sucked supplies dry, it appears. Punters waiting to pay for their orders at the checkout stage often had their items automatically removed from their virtual carts before being notified that the item had gone out of stock.
hahahaha @Newegg you guys are SOOOOO funny! Thanks for sending me this email just after I spent hours trying to get an #RTX3090 only to have it removed from my cart EVERY TIME. pic.twitter.com/18ytw4WOej

— Jeffrey (@muchjeff) September 24, 2020
If you're reading this and feeling the unshakable sense of déjà vu, you're not wrong. The exact same scenario occurred when Nvidia released its GeForce RTX 3080s last week.
Many took to Twitter to vent their frustrations while scumbag scalpers resold the cutting-edge GPU on places like eBay for way more than the retail price of $1,499. Some users have placed totally above board bids exceeding $20,000 for one card alone. We've also heard of netizens, fed up with the scalping, creating eBay accounts to place super-high bids they have no intention of paying for and that no one else will outbid, thus blocking the sales.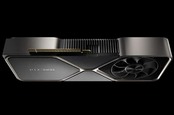 Nvidia GeForce RTX 3080 debut derailed by website glitches, bots, lack of supply
READ MORE
After the kerfuffle of the RTX 3080 launch, the graphics chip giant admitted its online shop had been inundated with "malicious bots and resellers," as well as eager legit customers, and promised to better defend against malicious buyers.
"The demand for the GeForce RTX 3080 was truly unprecedented. We and our partners underestimated it," Nvidia said on Monday, just days before the 3090 release. "Over 50 major global retailers had inventory on the day of launch. Our retail partners reported record traffic to their sites, in many cases exceeding Black Friday. This caused crashes, delays and other issues for their customers. We knew the GeForce RTX 3080 would be popular, but none of us expected that much traffic on the first day.
"As with many other etailers, the Nvidia Store was also overrun with malicious bots and resellers. To combat this challenge we have made the following changes: we moved our Nvidia Store to a dedicated environment, with increased capacity and more bot protection.
"We updated the code to be more efficient on the server load. We integrated CAPTCHA to the checkout flow to help offset the use of bots. We implemented additional security protections to the store APIs. And more efforts are underway."
Fat lot of good that did. And Nvidia didn't even expect Thursday's launch to go smoothly: it preemptively apologized to folks the day before.
"Since we built GeForce RTX 3090 for a unique group of users, like the Titan RTX before it, we want to apologise upfront that this will be in limited supply on launch day. We know this is frustrating, and we're working with our partners to increase the supply in the weeks to come," it confessed.
Nvidia declined to comment further. ®