Oracle rejoices as US government's $400m wage discrimination claim gets piped into /dev/null
Winner winner, lawsuit-binner
An administrative law judge this week dismissed the US government's claim that Oracle unfairly underpaid its female and minority workers by hundreds of millions of dollars.
Judge Richard Clark, with the Department of Labor, ruled [PDF] that though he had heard anecdotes of pay disparity at the American super-corp, none of it added up to hard proof that Oracle discriminated as a rule against entire groups of staff on the basis of gender or ethnicity.
"A number of current and former Oracle employees appeared and offered their anecdotal experiences," the judge wrote.
"While I appreciated the time and courage it took for those witnesses to appear at this hearing, the case is ultimately not about whether or not any individual instance of discrimination occurred or how witnesses may have been treated in a particular circumstance."
"There was no good evidence," he added, to support the "allegation that Oracle's executives knew about, hid, and ignored widespread disparities."
The database giant's lawyers were quick to claim victory, saying the case "should never have been brought in the first place."
"After four years of litigation, we are grateful for Judge Clark's ruling," said Oracle general counsel Dorian Daley. "In a more than 200-page decision, Judge Clark found no evidence of discrimination. We have been subject to years of harassment by Department of Labor employees with no evidence of discrimination whatsoever."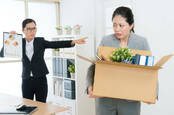 She was praised by the CEO and promoted. After her brother and mom died, she returned from compassionate leave. IBM laid her off
READ MORE
The suit, filed in 2017 by the Dept of Labor after a years-long probe by its Office of Federal Contract Compliance Programs, accused the enterprise software goliath of deliberately paying women and minority employees less than their white male counterparts. In its lawsuit, Uncle Sam not only demanded Oracle cough up $400m in back-pay owed to the alleged screwed-over staff but also threatened to cut the corporation out of lucrative federal government contracts.
Oracle denied the claims throughout, and although it was said to have been offered a $40m settlement package, Big Red opted to ride it out in court.
Those efforts paid off on Tuesday when Clark issued his decision that, while some individuals may indeed have been paid less than white male peers, it doesn't appear that there was a systemic crackdown in place, or that the orders came from the top.
"There is no plausible mechanism for systemic discrimination by the alleged wrongdoers," the judge noted.
"Lower-level managers are the primary decision makers in compensation outcomes and the potential mechanisms of discrimination that are available to Oracle's higher-level executives and HR personnel (budgeting, instructions, approvals) are not likely means for the sort of discrimination alleged."
That said, the judge also noted Oracle didn't exactly cover itself in glory over the course of the case.
"Oracle is budget conscience [sic - Ed] and seeks to make money, but there is no evidence that this is driven by discriminatory intent or that Oracle intentionally discriminates in order to save money," Judge Clark wrote.
"The evidence of record did not paint a flattering picture of Oracle's internal investigations, but this is very limited support for the suggested inference to a pattern or practice of disparate treatment based on gender or race." ®