This article is more than 1 year old
TikTok seeks injunction to halt Trump ban, claims it would break America's own First and Fifth Amendments
Video-sharing app appears to have had enough of presidential posturing
TikTok has asked the courts for a preliminary injunction that would prevent the the Trump administration from banning the video-sharing app in America this weekend.
In its filing [PDF] on Wednesday, Tiktok said it had "made extraordinary efforts to try to satisfy the government's ever-shifting demands and purported national security concerns." Any ban would break the First and Fifth Amendments of the United States Constitution, it claimed, as well as multiple other laws. Said amendments, broadly speaking, cover freedom of speech and right to assemble and petition the government; and the right to due process, respectively.
The request was filed in a Washington DC district court, and comes in response to a proposed ban on the app that was due to come into effect on Sunday but was extended by a week as President Trump considered a plan to carve off part of TikTok and get Oracle and Walmart involved.
The filing also follows a similar and successful injunction bid by another Chinese-owned app – WeChat – which Trump had also threatened to ban under the pretext that it was a national security risk.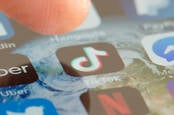 TikTok proposes coalition with other social apps to curb harmful content
READ MORE
TikTok's move is just the latest in a head-spinning month of moves in which TikTok's owner, Chinese outfit ByteDance, has tried to mollify the President by drawing up a complex deal that would see it separate off its global, non-China business, headquarter it in the US, sell 20 per cent of itself to Oracle and Walmart, and then go public within a year, putting its shares into the hands of most American investors. Oracle would also provide a cloud platform for the popular app.
All of that was proposed after the President decided TikTok represented a national security threat and gave it a month to come up with a plan to satisfy him that it wasn't. But even after TikTok's proposal appeared to get the green light from the US Treasury, and after President Trump said he had approved it on Saturday, he then backtracked during a phone-in to a morning TV chat show and suggested he wouldn't in fact approve it.
Confused old man
The President seemingly didn't understand the basic terms of the deal and also confused a PR line about billions in future tax dollars arising from the agreement going to the Treasury and an unrelated educational program, prompting TikTok to clarify the situation. Everything has gone quiet since.
As such, it's fair to say TikTok is not confident the deal will get approved by the weekend, if at all, and so has filed to preemptively prevent the blockade, potentially bringing everything back to square one.
There's also the fact that earlier today, China Daily, which is the English-language newspaper of the Chinese government, called the whole deal "dirty and unfair and based on bullying and extortion."
"There is simply no genuine emergency here that would justify the government's precipitous actions," TikTok said in its filing. "And there is no plausible reason to insist the prohibitions be enforced immediately." ®