This article is more than 1 year old
Former BT CEO to lead task force that will advise UK.gov on diversifying the nation's telecoms supply chain
Experts from industry and academia tapped to help increase competition
The Ministry of Fun* has assembled a new task force of senior mobile industry bods to help diversify the UK's telecoms supply chain and reduce the exposure to so-called "high-risk vendors" such as Huawei.
Assembled ahead of the publication of the UK's Telecoms Diversification Strategy, the group brings together experts from industry and academia. Chairing it is former BT CEO Lord Ian Livingston, who previously also served as the UK's Minister for Trade.
Also serving are Vodafone CTO Scott Petty, Openreach CEO Clive Selley, Professors Rahim Tafazolli and Dimitra Simeonidou of the Universities of Surrey and Bristol respectively, UK5G Advisory Board chair Rosalind Singleton, Copper Horse chief David Rogers, and Dr Scott Steedman of the British Standards Institute.
Collectively, this task force is intended to provide advice to help inform the government's diversification strategy, which aims to infuse competition into the market beyond that offered by the existing incumbent players: Nokia, Ericsson, and Huawei.
This will include looking at "targeted measures" to attract additional vendors, as well as development in vendor-agnostic platforms like OpenRAN. It's not clear what these measures will specifically entail, although the government said it's in talks with third-party firms to see how it can support their entry into the telecoms infrastructure market.
The task force will also look at how to develop homegrown competition. Since the departure of Marconi from the infrastructure market, UK carriers have largely relied on foreign vendors for their core network and RAN equipment. Nokia and Ericsson are both based in Scandinavia. ZTE and Huawei are Chinese. And Samsung, although it doesn't have much of a toehold in the UK market, is South Korean.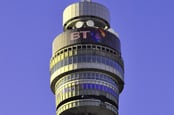 BT cutting contractors' rates by a fifth and halving notice period because 'coronavirus'
READ MORE
In a statement, Digital Secretary Oliver Dowden said: "To deliver the revolutionary benefits of 5G networks for people and businesses, we need to be confident in their security and resilience. A more diverse supply chain is essential to reducing our dependence on individual suppliers and improving telecoms security – as well as a great economic opportunity for the UK.
"Under Lord Livingston's leadership, this task force will use industry expertise to turbo charge the delivery of our Diversification Strategy. Together we will push ahead with bold ideas to break through the barriers stopping suppliers from entering the UK and put us at the forefront of innovative new mobile technologies."
Upon announcing the looming ban of Huawei from the UK's network, Dowden was especially critical of the state of competition in the telecoms market, describing the dependence on Huawei as a "market failure".
"Put simply, countries around the world, not just in the United Kingdom, have become dangerously reliant on too few vendors," Dowden told the House of Commons.
Diversifying the market will likely prove easier said than done. Developing new products takes not just time, but motivation.
As Amy Karam, fellow at the Canadian Global Affairs Institute, told the House of Commons Science and Technology committee earlier this year, there's reluctance in the telecoms industry to build products deemed less profitable. This is irrespective of any pressing national security needs.
Describing the problem as a "failure of capitalism", Karam said: "Free markets essentially failed the US, Canada, and the UK in creating this gap. Creating Radio Access Network (RAN) equipment is not very lucrative. So when you look back and ask why the US doesn't have this, it's because its network providers – Cisco was the giant – didn't invest. They were beholden to shareholders, Wall Street." ®
* Also known as the Department for Digital, Media, Culture, and Sport.