This article is more than 1 year old
Scre-EE-m if you wanna go faster: BT's mobile network reigns supreme in UK-wide speed and latency tests
But Vodafone's not far behind
EE is the UK's fastest mobile network, according to a new report [PDF] from Tutela Technologies which examines more than 180 million speed and latency tests performed between 1 March and 31 August.
Overall, the BT-owned network ranked top in a bevy of categories, including median download speed, upload speed, and overall coverage.
EE also beat the competition in the "Excellent Consistent Quality" category, which looks at how often users could perform relatively challenging tasks such as streaming 1080p video or taking part in HD video chats.
Competition to EE's crown comes from Vodafone, which scored top marks in the "Core Consistent Quality" category. This metric examines how often users were able to perform simple tasks, such as watching standard-definition streaming video, using social media, or browsing the web. It's also more indicative of how people use their phones. Not everyone wants to watch Game of Thrones in full 1080p glory while they commute, but plenty kill time by reading the news or checking Twitter.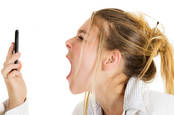 TalkTalk, Three, and Virgin Media, come on down! You've all won a prize for... not being that great at something!
READ MORE
There's some nuance to be observed here. While Vodafone ranked top on Core Consistent Quality across all of the UK's four home nations, when you take a granular look at how the networks rank for "Excellent" quality, things are a bit more muddled.
For high-definition content consumption, EE ranked top in England and Northern Ireland, but tied with Vodafone in Scotland. Vodafone also came first in Wales.
Three fared worst out of the bunch, coming dead-last in several key areas. It had the slowest median download speed and the slowest median latency at 18.2ms. This is a full 7ms slower than EE, which had a median of 11.2ms. Upload speeds were slightly better, coming ahead of O2, but behind Vodafone and EE.
Tutela attributed this poor performance to the network's comparatively limited 5G and LTE coverage, which forces customers onto 3G. Three customers spend nearly 22.9 per cent of their time on 3G, compared to 10.4 per cent and 13.6 per cent on EE and Vodafone respectively. ®