This article is more than 1 year old
Spain's highway agency is monitoring speeding hotspots using bulk phone location data
Local reports suggest individuals can't be identified... yet
Spain's highways agency is using bulk mobile phone data for monitoring speeding hotspots, according to local reports.
Equipped with data on customers handed over by local mobile phone operators, Spain's Directorate-General for Traffic (DGT) may be gathering data on "which roads and at what specific kilometer points the speed limits are usually exceeded," according to Granadan newspaper Ideal (en español).
"In fact, Traffic has data on this since the end of last year when the National Statistics Institution (INE) reached an agreement with mobile operators to obtain information about the movements of citizens," reported the paper.
The data-harvesting agreement was first signed late last year to coincide with a national census (as El Reg reported at the time) and is now being used to monitor drivers' speeds.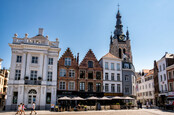 Belgian city slurps mobile data to track visitors
READ MORE
National newspaper El Pais reported in October 2019 that the trial would involve dividing Spain "into 3,500 cells with a minimum of 5,000 people in each of them" with the locations of phones being sampled continuously between 9am and 6pm, with further location snapshots being taken at 12am and 6am.
The newspaper explained: "With this information it will be possible to know how many citizens move from a dormitory municipality to a city; how many people work in the same neighbourhood where you live or in a different one; where do the people who work in an area come from, or how the population fluctuates in a box throughout the day."
The INE insisted that data collected back then had been anonymised and was "aimed at getting a better idea of where Spaniards go during the day and night", as the BBC summarised the scheme. Mobile networks Vodafone, Movistar, and Orange were all said to be handing over user data to the INE, with the bulk information fetching €500,000 – a sum split between all three firms.
In April the initiative was reactivated for the so-called DataCovid plan, where the same type of bulk location data was used to identify areas where Spaniards were ignoring COVID-19 lockdown laws.
"The goal is to analyse the effect which the (confinement) measures have had on people's movements, and see if people's movements across the land are increasing or decreasing," Spain's government said at the time, as reported by expat news service The Local's Iberian offshoot.
The DGT then apparently hit on the idea of using speed data derived from cell tower pings (in the same way that Google Maps, Waze, and other online services derive average road speed and congestion information) to identify locations where drivers may have been breaking the speed limit.
The Ideal news website seemed to put the obvious fears to bed in its report of the traffic police initiative when it posed the obvious, rhetorical, question: whether drivers can be fined based on mobile data.
"The answer is clear and direct: it is not possible," it concluded. "The DGT can only fine us through the fixed and mobile radars that it has installed throughout the country."
While the direction of travel here seems obvious to anyone with any experience of living in a western country that implements this type of dragnet mass surveillance, so far there is little evidence of an explicit link between mobile phone data-slurping and speed cameras or fines.
Back in 2016, TfL ran a "trial" tracking people's movements by analysing where their MAC addresses popped up within the Tube network, also hoping to use this data to get higher prices for advertising spots at busy areas inside Tube stations. Dedicated public Wi-Fi spots on train platforms is now a permanent fixture in all but a few of the London Underground stations. The service is operated by Virgin Media, which is "free" to use by customers of the four mobile network operators, but collects your mobile number at the point of signing up.
We've asked the DGT for comment. ®