All those 'teleworking is the new normal' predictions? Not so much, say bosses
Australian government survey's post-plague adoption prediction finds only tiny future increase in usage
---
Remote work may not be the new normal after all, according to Australia's Bureau of Statistics.
The Bureau, Australia's official gatherer-of-data, conducted a pair of phone surveys in August and September, ending up with a sample of 1,279 businesses and asked what percentage of staff use teleworking.
The results, as you'd expect, show that before the COVID-19 pandemic 71 per cent of Australian businesses did not use teleworking, but that 15 per cent of businesses have adopted it since.
The survey also asked what businesses plan to do in future, which is where things get interesting because the number of businesses that expect to carry on teleworking for 75 per cent or more employees goes back to just 1 per cent above pre-plague adoption rates.
Here's the Bureau's table outlining its findings.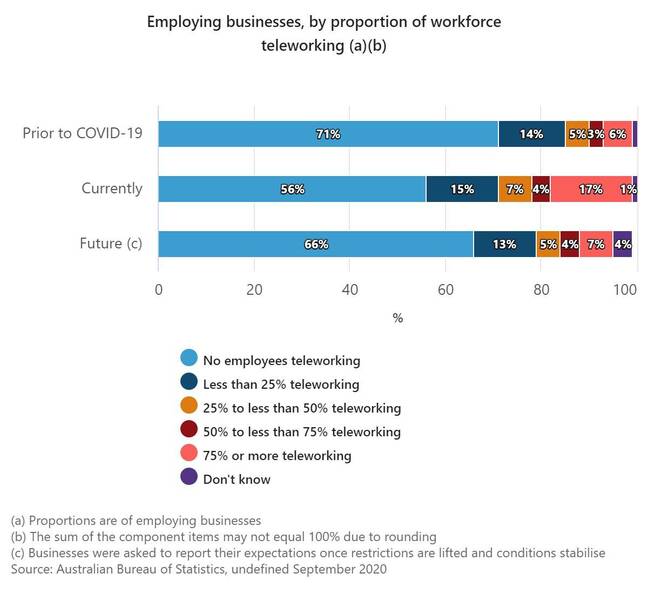 Australian data on current and future teleworking use. Click to enlarge
The data also shows that 17 per cent of businesses currently have 75 per cent or more of their staff teleworking, but that once the pandemic recedes they expect that figure will fall to 7 per cent – just one point above the pre-plague level.
And the percentage of businesses with 25 to 50 per cent of staff teleworking could even fall: the data found 5 per cent of businesses had that many staff remote before COVID, spiking to 7 per cent at present and expected to dip to 5 per cent whenever Australia can put the plague behind it.
The survey also found that the financial services and insurance industries, and administrative services outfits, intend to have fewer people teleworking in future. Other more hands-on industries such as mining and retailing expect to have more staff telework in future.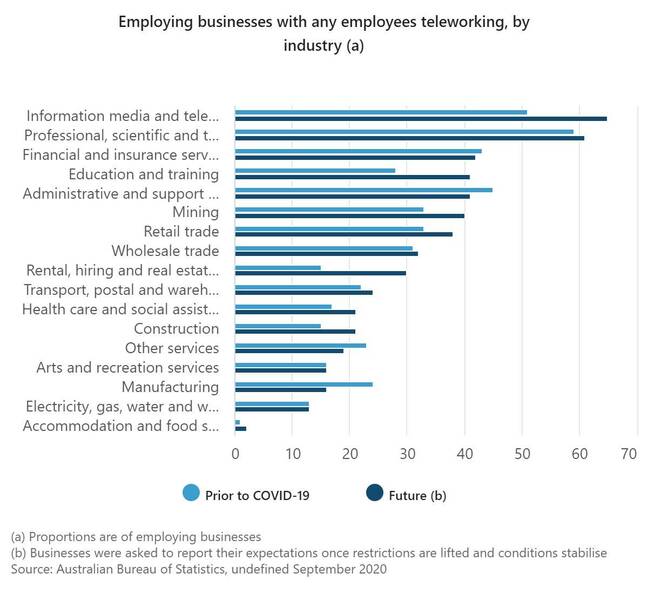 Future Australian teleworking intentions. Click to enlarge
The IT industry, however, expects more people will work remotely in future! So don't bother buying that new set of pants, dear readers!
Australia has an unusual concentration of jobs in central business districts of a handful of large cities, so the applicability of the Australian experience elsewhere is therefore far from certain. However the nation's employment mix is not vastly different compared to that of other nations. ®