This article is more than 1 year old
Despite rolling a homegrown translation app with iOS 14, Apple resorts to freebie tool for Dutch Ts-and-Cs waffle
'I didn't expect this kind of work from Apple.' Sorry, did you see Catalina?
Apple is apparently so skint that it has had to resort to freebie versions of machine-based translation services for its Dutch legalese.
Spotted by a Register reader browsing the small print behind the company's services, the text "Vertaald met www.DeepL.com/Translator (gratis versie)" can be found lurking just above the "DEFINITIE VAN APPLE" section in the terms-and-conditions doc.
For those not versed in Dutch, that means something like "Translated with www.DeepL.com/Translator (free version)".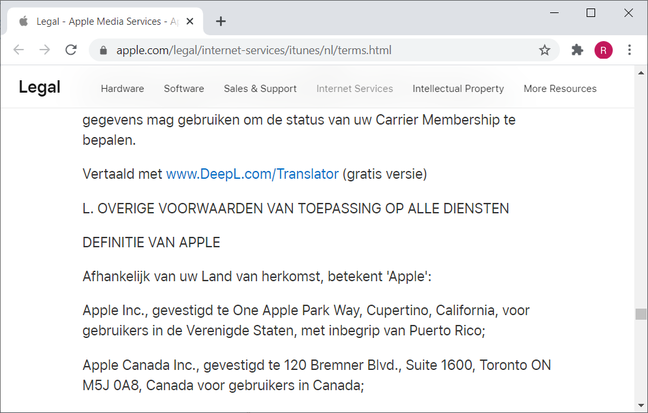 Apple's Dutch legalese
We'd give you our own definition of Apple, but that's possibly how we wound up on the company's naughty step.
DeepL Translator [PDF] was first released in August 2017, with the free service (presumably the one that has found favour within Cupertino) being supplemented by DeepL Pro in March 2018. An application to integrate with Windows and macOS arrived in September 2019.
Sadly, it appears that for Apple, maker of the $999 iPhone 11 Pro and $5,999 Mac Pro, the €39.99 per month/per user of DeepL's "Ultimate" tier subscription is just a little too much. Even the €5.99 tier is a step too far.
Odd, because by opting for the freebie incarnation, Apple has elected to skip DeepL's maximum data security level for its translation (with end-to-end encryption and immediate text deletion). Stranger still, the recent iOS 14 update added an Apple-built translation app to iPhones. Maybe they should have used that.
The Register contacted Apple to find out why a link to a free translation service had found its way into its terms and conditions. We're shocked, shocked, to report that the company has yet to respond.
DeepL, on the other hand, did respond. However, it said it would prefer not to make a comment.
A quick look at old versions of the page shows that the translation credit appeared relatively recently, presumably when the likes of Fitness+ were crowbarred in. Apple Fitness+ costs $9.99 a month, a little more than how much DeepL asks per month for its basic tier.
It could be worse. The translation-based snafu could have ended up on a road sign.
As for our reader? He noted: "The translation is rather poor, I didn't expect this kind of work from Apple."
If the quality of recent software from the fruity branded biz is anything to go by, this is exactly the sort of thing we've come to expect. ®