This article is more than 1 year old
Not the Southern Rail of the stars: Rocket Lab plans frequent, regular trips to Venus from 2023
Peter Beck and 300 seconds of really rather interesting data
A month can be a long time in space exploration. Since we last spoke to Rocket Lab's Peter Beck, scientists have published results that hint at life in the clouds of Venus, while Beck's rocketeers popped a Photon demonstrator into Earth orbit.
CEO Beck talked with us about his plans for a privately funded Venus mission a month ago, but was careful with his words, laughing "otherwise I get headlines like 'Pete's searching for aliens'".
The speculation generated by the Royal Astronomical Society press briefing a few short weeks later generated far more lurid copy about what might be floating about in the atmosphere of Venus. Beck's passion for the mission remains, however, undimmed.
With Flight 14 safely away, replete with a surprise demonstrator of Rocket Lab's Photon spacecraft, Beck was happy to go into detail on what he planned to launch to Venus in May 2023.
The mission profile is deceptively simple. The interplanetary version of the Photon will undertake a voyage of around 160-180 days to Venus. The probe will detach and, as Photon performs a flyby of the planet, plunge into the atmosphere at approximately 11 kilometres per second, transmitting data as it goes.
This is where the real fun starts.
"We get around 300 seconds of really interesting time in the region that everybody's interested in," explained Beck, "and the real challenge right now is the instrument. We're going there to look for signs of life, and in order to design the instrument you have to make some assumptions about what that life is."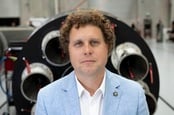 Rocket Lab boss Peter Beck talks to The Reg about crap weather, reusing boosters, and taking a trip to Venus
READ MORE
Beck's 27kg probe will indeed carry a single instrument weighing in at around 3kg, rather than the multitude of gadgets seen on other spacecraft. Instead of a single, big mission every decade or so, Beck plans to send a multitude of lighter, cheaper spacecraft, iterating the payload as results come in.
"It's a different way of doing planetary science," he asserted. "The approach I personally prefer is: 'Let's do a bunch of missions for tens of millions of dollars, and let's do them really, really regularly, and frequently'.
"The ability to kind of increment the science is what's really interesting. You can go there with a hypothesis, test your hypothesis, and go, 'Well, that was wrong,' and go back again, with a new hypothesis and iterate."
Beck speculated that it might take 10 missions or more to conclusively prove things one way or another: "If we follow the traditional model… I haven't got 100 years to wait, I want that question answered now!"
The numbers, in terms of the billion-dollar missions often seen heading to the stars, look good (comparatively speaking). Rocket Lab is charging NASA $10m for the lunar version of the Photon due to launch next year, including the Electron on which it will ride. The $30m-$50m for the more complex mission to Venus is, according to Beck, "a bargain".
Of course, he would say that.
Beck expects to fly at least one more Photon before NASA's lunar mission ("they're just a drop-in for the kick stage," he said, "as long as there is mass margin on the flight") and more are planned in order to refine the design ahead of that first mission to Venus.
Having successfully returned to flight, Rocket Lab has a busy few months coming up. Its US launchpad will see its first mission once the paperwork for the abort system is complete and the second New Zealand facility is nearing completion. Additional launchpads might feature in the future if the company is asked for inclinations below 37 degrees.
It also hopes to see the Electron of Flight 17 return to Earth safely via parachute.
But looking for evidence of life on Venus is the ultimate name of the game. "What galvanised my interest in space," said Beck, "is: 'Are we alone? Is life in the universe unique, or is it prolific?'
"The evidence we have now is that we are the only life in the universe. If you can find life [or evidence of life] on Venus then you fundamentally change that data point.
"And if you have the capability to go and try and answer that question, it's just totally unacceptable to not try." ®