Airbus drone broke up in-flight because it couldn't handle Australian weather
'Zephyr' is designed to either beam down data or spy for weeks, but lasted about 90 minutes
A drone that Airbus once flew for 25 days without landing and suggests as either an airborne communications platform, or a stratospheric spy, broke up after its automation failed in rougher-than-expected weather.
So says the Australian Transport Safety Bureau, which yesterday released its investigation into the September 2019 crash of a "Zephyr" drone that was being tested in the far north of the country.
Airbus promotes the Zephyr as a "High Altitude Pseudo-Satellite" that when pressed into service for peaceful missions can do the work of 250 cell towers and bring connectivity to remote areas. "No other aerial solution offers direct to device 4G/5G on a persistent day and night basis, complementary to existing infrastructure," Airbus enthused.
The company also says the craft can "provide a range of continuous surveillance to meet mission requirements as well as high resolution imagery and video capture for intelligence gathering."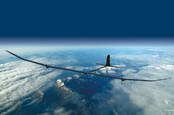 Is it a bird? Is it a plane? No, it's a flying solar panel: BAE Systems' satellite alternative makes maiden flight in Oz
READ MORE
And the Zephyr can do it for a long time: previous flight tests saw the craft fly for more than 25 days without landing, thanks to its solar-cell-covered wings and on-board batteries.
With specs like that, no wonder the UK's Ministry of Defence is a Zephyr customer.
The Ministry and other buyers may, however, be less enthusiastic after the September 28th, 2019, test flight of a Zephyr in Australia came down to earth just 90 minutes into its mission.
The Bureau summarised the flight as follows:
While climbing through 8,000 ft above mean sea level, the UAV experienced a series of uncommanded turns. The UAV self-recovered from the first two uncommanded turns however, the third upset resulted in the aircraft entering an uncontrolled spiral descent. Despite attempts to return to controlled flight, the UAV sustained an in-flight break-up.
The reason for the crash? Simple: "the UAV entered an area of unstable atmospheric conditions that were beyond the aircraft's ability to remain in controlled flight." Among those conditions were headwinds that saw the craft's ground speed drop to just one knot.
Which you'd think might get Airbus off the hook.
However Airbus's own announcement of the Australian base used for the test says the company picked the location because it offers "reliable weather".
The Bureau's report also points out that the Zephyr is built to fly at around 70,000 feet and is vulnerable during its climb to that altitude. The operating crew know that, so tried to plan for the day's weather and even delayed the flight. But the site's remoteness and the fact that this was just the second Zephyr flight from the base meant a fateful decision was taken to fly even though turbulence was predicted but assessed to be "manageable".
That the Zephyr crashed suggests that assessment was incorrect.
The Bureau did, however, heap praise on Airbus for its crash management plan, noting that "soft‑termination and post‑crash management procedures were effective."
Airbus has since developed new weather forecasting tools to better inform future flights, plus new procedures to manage abnormal situations. ®