This article is more than 1 year old
Apple, Epic trade barbs in App Store brouhaha while judge pins July for jury time
But will Fortnite be allowed back into the walled garden in the meantime?
Lawyers representing Apple and Epic Games appeared in court yesterday via video link as the row over Cupertino's App Store policies rumbles on.
As reported by The New York Times, Judge Yvonne Gonzalez Rogers for the Northern District of California heard lawyers' complaints ahead of an expected ruling in a few days on whether Apple must allow Epic's wares (including the company's game development tools) back into its store before a jury trial can begin.
Rogers concluded the hearing by recommending that the trial should happen in July. In a joint statement [PDF] filed on 24 September, Epic proposed a six-month schedule, with the trial starting either at the end of March or beginning of April. Apple proposed a trial start on 2 August. Epic's compromise would have seen the trial begin on 24 May.
The row concerns Epic's decision to allow Fortnite players to purchase in-game virtual currency at a price below that of the iOS in-app purchase price. Apple likes its pound of flesh and expects 30 per cent of a game's revenue to be handed over by developers, and its guidelines insist developers use Apple's own payment mechanism.
Apple booted Fortnite from its iOS App Store, Epic lobbed its pre-prepared sueball, Apple filed a countersuit, and here we are.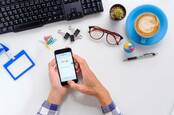 Yet another twist for 2020: Google says Android 12 will make it easier to install alternative app stores
READ MORE
According to the NYT report, Epic reiterated its claim that Apple's reluctance to let developers use their own payment system via the app store was "monopolistic" and Apple accused Epic with creating a "self-inflicted wound" by not complying with its payment policy.
The iGiant went on to insist that Epic "had plenty of alternative ways to distribute its games".
Rogers administered a light kicking to Epic regarding the firm's decision to ignore Apple's payment rules. "There are plenty of people in the public who consider you guys heroes for what you did, but it's still not honest," she said.
Things are heating up in the App Store world. Apple's recently launched subscription bundle, Apple One, received a pasting from music streaming service Spotify for being "anti-competitive" while more than a dozen software and media companies last week formed the Coalition for App Fairness, aimed at lobbying for changes in tech platform policies.
Apple is not alone. On Monday Google tightened the screws on developers keen to make a buck out of its Google Play Store. While tweaking things in Android 12 "to make it even easier for people to use other app stores on their devices", the ad giant reminded users that it expects those that offer in-app purchases on apps distributed via Google Play to use its billing system, from which the Chocolate Factory also takes a 30 per cent cut.
"This business model," it said, "aligns our success directly with the success of developers."
Affected developers have until 30 September 2021 to comply, by which time Epic Games vs Apple could well have pranced before a jury.
The Register checked in with Epic Games and Apple for their thoughts. While the latter has yet to respond, the former told us it would be waiting on a ruling before commenting. ®