This article is more than 1 year old
G'day mate, I'll take two tinnies, a packet of Tim Tams, some Vegemite, and a bork
Do you come from a bork down under?
Bork!Bork!Bork! Bork is going down under today after a Register reader eyeballed Windows doing its worst on a Canberra ATM.
Spotted by eagle-eyed Byron at the Spar Express in the Ngunnawal suburb, this ATM looks to be giving itself a jolly good activating in front of bemused onlookers.
We're particularly impressed with the use of the third person by Windows and the setup program. "Windows now configures..." is positively Kanye West-ish in its declaration, assuming the Kardashian-bothering popster had a yen for ATMs.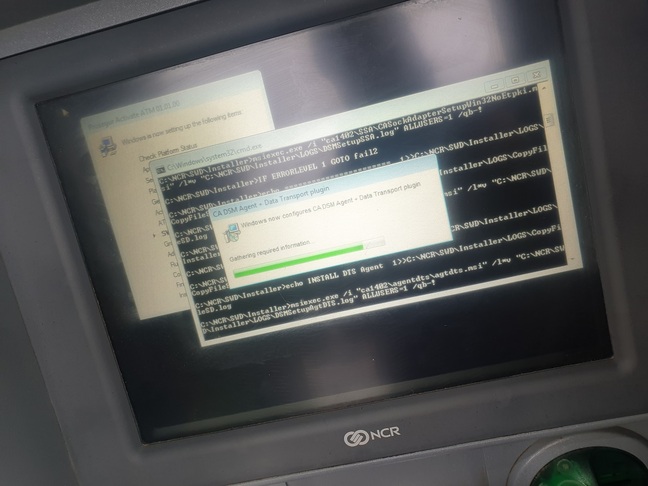 Located an approximate 14km drive from the centre of the Australian capital, Ngunnawal is named for the people that originally inhabited the area and the surroundings are festooned with place names reflecting indigenous Australian culture.
Excepting, of course, modern-day Australian mainstays such as the Spar housing the borked ATM and the "Bottle-O" next door – an Oz take on the off-licence (also known in the UK as The Place To Go For Beer When The Pubs Shut At 10).
As for the ATM, the chrome on show speaks of an earlier, simpler time for Windows as do the two variants of computer icon, both of which are likely to confuse younglings even more than the command-line shenanigans at work.
One shows its age with an image of a CRT-based desktop with packaged software and a floppy disk, while the other replaces the long obsolete removable storage with a marginally less outdated CD or DVD.
For us, with our laptops and downloaded software, such a sight brings forth a frisson of nostalgia, before memories of degaussing, corrupted disks (normally disk 25 of 27) and headaches displace those rose-tinted spectacles.
Still, it is nice to know that in a corner of Australia an ATM still celebrates the history of Windows with inconsistent iconography and a good, old fashioned bork. ®