This article is more than 1 year old
DuckDuckGo cries fowl after being expunged from Google's Android search preferences menu for most of Europe
Pro-privacy upstart claims EU antitrust remedy is not fit for purpose
Privacy-focused search engine DuckDuckGo will no longer appear on Google's European search preference menu for Android in most countries, despite being the most popular choice after Google.
The company has complained in response to Google's publication of its latest "choice screen winners". In 2019 Google agreed to provide Android users a prompt for selecting the default search provider, in response to a July 2018 decision by the European Commission that Google has been abusing its dominant position by tying the Google search app with the Play Store.
Google's remedy is controversial. Four choices are shown, of which one is always Google, and Google then uses an auction to determine who else appears. The winners get the privilege of paying Google each time a user selects them from the menu. "This auction remedy, proposed by Google, was constructed to make Google money, not to provide meaningful consumer choice," DuckDuckGo argued previously.
The latest auction does include DuckDuckGo, but only in Bulgaria, Croatia, Iceland, and Liechtenstein, out of 31 territories.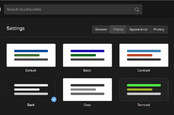 Tinfoil-hat search engine DuckDuckGo gifts more options, dark theme and other toys for the 0.43%
READ MORE
"We have been priced out of this auction because we chose not to maximize our profits by exploiting users," DuckDuckGo. The logic is that the price bid is a commercial decision based on how much profit the search provider expects to make from being the default. "Google's auction further incentivizes search engines to be worse on privacy, to increase ads, and to not donate to good causes, because, if they do those things, then they could afford to bid higher," it said.
Despite DuckDuckGo's protests, rival privacy search provider PrivacyWall does feature in the search options for most territories, including the UK. PrivacyWall is a for-profit company but says it uses its profits "to fund privacy projects" and that its top search result is always organic. That said, the company was in the news for the wrong reasons in July after placing search ads encouraging voters to use its paid voter registration service when they can register for free.
DuckDuckGo has a strong argument, particularly as its research suggests that DuckDuckGo is the most popular option after Google when a menu like this is used, ahead of Microsoft's Bing. In the UK, for example, 5.78 per cent selected DuckDuckGo versus 4.29 per cent for Yahoo! and 3.36 per cent for Bing. Google still wins 86.57 per cent of the time, but for these smaller providers, even a small percentage of such an important market is significant. A large part of the problem is brand awareness, with only 21 per cent of those surveyed saying they had heard of DuckDuckGo at all, whereas most are familiar with Bing and Yahoo! (but still choose Google).
Will this menu system be changed? According to DuckDuckGo, the European Commission "has said they have been waiting on data to act". Change, if it comes, will not be soon. ®