This article is more than 1 year old
Lenovo sheds lockdown pounds with lightweight ThinkPad, reveals price tag for world's first bendy-screen PC
As you can probably guess, neither are cheap
The ThinkPad X1 Nano is the lightest computer to ever carry Lenovo's biz laptop marque, weighing in at 907 grams (or 1.99 pounds).
It's not the lightest ultrabook we've encountered (the Dynabook Portégé X30L-G is just 870g), but it's nonetheless a feat considering the specs.
Lenovo resisted the temptation to shrink the 2K display, which measures 13 inches across and is flanked by a set of rather tight bezels. Inside, punters can choose to configure the X1 Nano with an 11th-generation Intel Core i7 processor, a 1TB PCIe SSD, and 16GB of LPDDR4x RAM.
Lenovo promises up to 17.3 hours of runtime, although manufacturer estimates of battery life are invariably optimistic. The reality is almost always a few hours shorter.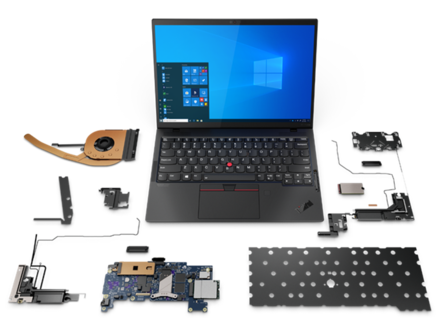 ThinkPad X1 Nano innards
On the connectivity front, there are two Thunderbolt 4 ports. The Nano X1 lacks legacy port options, like USB-A and HDMI, although given the form factor, you wouldn't reasonably expect them. Wireless options include Wi-Fi 6, Bluetooth 5.0, and optional LTE 4G and 5G radios.
The base configuration costs $1,399 – which isn't cheap and you can easily get more performance for the same amount of cash.
The ultrabook form factor also necessitates certain compromises. Powerful fans are replaced with smaller ones or ditched entirely for passive cooling methods. That often results in otherwise powerful processors throttled for thermal management reasons.
That's before mentioning other cut corners, like the aforementioned Dynabook's uncomfortable and shallow keyboard. Ultrabooks are also harder to repair and service, with components soldered to the logic board to save space.
Without testing the ThinkPad Nano X1, it's hard to determine whether this machine also suffers from those flaws. We've asked for a review unit, obviously.
Lenovo X1 Fold
Separately, Lenovo has announced pricing and availability for the world's first foldable PC – as in, a foldable screen. Announced last year, the X1 Fold takes the form factor pioneered by category-crossing smartphones like the Samsung Galaxy Fold and Huawei Mate X, and slaps Windows 10 (Pro or Home) on it for the deep-pocketed business crowd.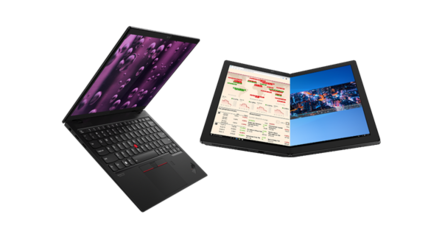 X1 Nano alongside X1 Fold
You can stand it up and use it like a normal Microsoft Surface tablet, with a hardware keyboard paired. Alternatively, you can fold it and use like a laptop, with the bottom half of the display transforming into a virtual keyboard. Some Reg readers will not approve. Turn it on its side, and the Fold X1 adopts a paperback novel form factor, for dual-window content consumption.
Lenovo has seen fit to bestow this with an 11th-generation Intel Core processor (rather than the Qualcomm silicon you'd perhaps expect). This is accompanied by 8GB RAM and up to 1TB of NVMe storage. Connectivity comes via two USB-C 3.2 ports, with Wi-Fi 6, Bluetooth 5.1, and sub-6GHz 5G.
Starting at $2,499, the Fold X1 isn't cheap. Orders are open now and units are expected to ship in the coming weeks. Microsoft's homegrown foldable effort, the Surface Neo, is still nowhere to be seen.
Let's just hope that Lenovo doesn't suffer from the teething troubles that Samsung endured when it put the first generation of its borked bendy blower into the hands of reviewers. ®