This article is more than 1 year old
McAfee seeks $2bn return to stock market after Intel unpleasantness
Warns investors that big clouds could start to sell native security tools direct to customers and reduce the need for third-party vendors
Security software outfit McAfee has filed to return to the stock market.
McAfee has been there before: when Intel bought the company in 2010 it was listed on the New York Stock Exchange. This time around it's looking for a NASDAQ listing and its registration statement says is part of a plan hatched back in 2017 when it was spun out after an unhappy time being owned by Intel.
The filing says McAfee plans to issue $100m of shares and dangles the following number before would-be investors:
Net revenue of $2,635 million in fiscal 2019 and $1,401 million in the 26 weeks ended June 27, 2020
Net loss was $236 million in fiscal 2019 and net income was $31 million in the 26 weeks ended June 27, 2020
Net loss margin was 9.0% in fiscal 2019 and net income margin was 2.2% in the 26 weeks ended June 27, 2020
Adjusted EBITDA was $799 million in fiscal 2019 and $507 million in the 26 weeks ended June 27, 2020
Adjusted EBITDA margin was 30.3% in fiscal 2019 and 36.2% in the 26 weeks ended June 27, 2020
Lest you balk at the prospect of buying shares in a recently-loss-making security company, the filing suggests that you won't just be buying into a trusted name that's proven it can grow, you'll be buying into an industry with a $30.4 billion addressable market projected to grow at a four-year compound annual growth rate of 7.9 percent.
McAfee asserts its brand will help it grow consumer sales, while adding partnerships with managed services providers and evolving its cloud products to grow enterprise sales.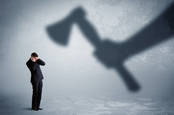 Sophos puts 100 at risk of redundancy as future of Naked Security blog hangs in balance
READ MORE
Filings of this sort are required to be frank so that investors know what they are getting into. McAfee's makes the observation that it faces challenges including "… the continued decline in the sale of new personal computers, and the rise of mobility and cloud-based solutions, all of which make satisfying our customers' diverse and evolving needs more challenging. In addition, many of our enterprise customers operate in industries characterized by rapidly changing technologies and business plans, which require them to adapt quickly to increasingly complex cybersecurity requirements."
McAfee also worries that "large cloud platforms, such as Amazon Web Services, Google Cloud and Microsoft Azure, may expand or commence providing native cybersecurity functionality directly on the platform such that our current and potential customers forego purchasing cybersecurity solutions from us."
Which would rather set the cat among the pigeons given that hyperscalers' current model makes security a customer's problem.
Financial media report that the $100m figure in the filing is a placeholder and is likely to change once investors sniff the prospectus, with $2bn a likely target. ®