Casting a teleport spell is out of the question? Next Falcon-powered 'naut trip to space station set for Halloween
SpaceX launch pushed back to spooky-tastic Oct 31
---
The latest batch of astronauts to fly to the International Space Station atop a SpaceX Falcon rocket will have to wait a little longer – after NASA pushed back the launch to October 31.
Back in May, NASA and SpaceX collaborated on the all-American Demo-2 flight, which was a test to see if SpaceX could, for the first time in its history, put humans into orbit and return them all in one piece. As such, astronauts Robert Behnken and Douglas Hurley flew to the space station in a SpaceX Dragon capsule attached to a Falcon rocket, docked with the science lab, and spent about two months in the joint before returning to Earth.
Since that worked out fine, the next lot, dubbed Crew-1, are now due to go up on Halloween at 0240 EDT (0640 UTC), and are made up of three NASA astronauts and one from Japan's Aerospace Exploration Agency.
The four – Michael Hopkins, Victor Glover, Shannon Walker, and Soichi Noguchi, respectively – will stay inside the ISS for about six months, maintain the station, and conduct various science experiments. NASA's decision to delay the launch for eight days to the end of October was to avoid interfering with a Soyuz launch that will take three other 'nauts – Sergey Ryzhikov and Sergey Kud-Sverchkov from Russia's Roscosmos, and Kathleen Rubins from NASA – to the ISS on October 14.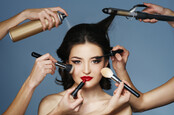 Space. The final frontier. These are the voyages of 'Advanced Night Repair' skin cream helping NASA to commercialise space
READ MORE
"The new target date will deconflict the Crew-1 launch and arrival from upcoming Soyuz launch and landing operations," NASA said in a statement. "This additional time is needed to ensure closure of all open work, both on the ground and aboard the station, ahead of the Crew-1 arrival."
That extra time may be used to solve another small, pesky problem: the air leak inside the station's Russian living quarters has not been patched yet. Even though a year has passed since the leak was first detected, the cause has still not been found despite attempts to seek it out. Kenny Todd, NASA's deputy manager of the space station, told reporters during a briefing on Tuesday that the air pressure inside is falling at an increasing rate. We're assured the nauts' lives aren't in danger.
Benji Reed, SpaceX's senior director of Human Spaceflight Programs, said the Crew-1 mission will kick-start a cadence of flights to keep the ISS fully staffed at all times. He said SpaceX has committed to providing seven future Crew Dragon missions, and four cargo resupply trips. ®