This article is more than 1 year old
Singapore Airlines turns A380 into a restaurant, delivers plane food to homes
As Australia's Qantas sells off old 747 drinks carts, fully loaded
Among the odder products of the COVID-19 pandemic are "flights to nowhere" operated by airlines that want to give travellers the chance to experience all the glory of air travel without the hassle of going anywhere.
Taiwanese and Australian airlines have flown such missions, the latter offering seven hours of lowish-altitude cruising across interesting bits of the continent.
Singapore Airlines, meanwhile, has announced it will run one of its Airbus A380s as a restaurant for a weekend.
Dubbed Restaurant A380 @Changi, the service will offer diners the chance to pay for a seat in their preferred class and show up to score a feed, two glasses of booze, unlimited soft drinks and even the chance to watch an in-flight flick. Pricing is yet to be revealed.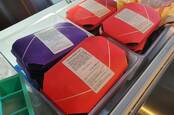 Fasten your seat belts: Brave Reg hack spends a week eating airline food grounded by coronavirus crash
READ MORE
Singapore airlines will also home-deliver its cuisine, thankfully prepared by the crew responsible for Business and First-Class meals, in an "all-inclusive package, which comes with the exquisite tableware and luxurious amenities available exclusively on board our flights".
Both services are being offered to frequent flyers, who can pay with their points.
Meanwhile, Australians last week had a chance to buy a drinks cart from local airline Qantas's recently retired 747 fleet.
"Before they made the final journey to the Californian desert, we removed and restocked the bar carts so they could continue drinks' service in the comfort of your home," Qantas wrote in its offer to sell bar carts filled with myriad tiny bottles of wine and other in-flight tat.
The carts were priced at AU$1,474.70 or AU$974.70 ($1,039 and $693) depending on size and sold out promptly.
Qantas retired its 747s because they were clapped-out fuel-guzzlers. Singapore Airlines has grounded its A380s for more or less the latter reason, because the pandemic has so reduced demand for long-haul travel that the carrier has next to no chance of filling the 440-seater with sufficient passengers to fly it profitably. Like other airlines, Singapore is therefore flying its two-engine jets, and even those not every often.
Emirates and China Southern both currently fly the A380, but most other operators have mothballed them and don't expect to fly them again for quite some time. ®