It's 2020, so let's just go ahead and let Amazon have everyone's handprints so it can process payments
Read mine off my forehead, Jeffrey
Amazon is testing out a system that can identify shoppers from their handprints so that they can be later charged for stuff.
The internet giant this week described ways in which this technology, dubbed Amazon One, can and will be used.
First, there's the Amazon Go way, which it will trial in two of its Go grocery stores near its HQ in Seattle, USA, with more to follow. Amazon Go shops, for the uninitiated, work like this: as you walk in, you identify yourself using a smartphone app. The computer system in the store then tracks your movements using cameras and AI, as well as the items you pick up from the shelves, and then as you walk out, it charges your Amazon account for the things you took. There's no cash register or scanning of barcodes, etc, it's all automatic.
With Amazon One, the web giant will allow people to wave their palm over a scanner on their way into the store, which should identify them and link them to a credit card, so that when they leave the premises, they are automatically charged for whatever goods they waltzed out with. Signing up involves inserting a credit card, scanning your palm for the first time to associate the two, and, yeah, that's it, apparently.
Second, Amazon hopes to see this handprint scanner tech used by other organizations to identify shoppers, sports fans, revelers, and employees, whether they enter or leave a place.
"It's fast and easy to sign up and use Amazon One, and we're excited to hear feedback from customers as we begin to make it available as an option for them in a range of locations and for a variety of uses," Amazon veep Dilip Kumar said.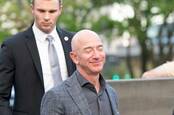 Flying camera drones, cuddly Echo gadgets... it's all a smoke screen for Amazon to lead you gently down the Sidewalk – and you'll probably like it
READ MORE
"We'll start in select Amazon Go stores, where Amazon One will be added to the store's entry gate as a convenient choice for customers to use to enter the store to shop. In most retail environments, Amazon One could become an alternate payment or loyalty card option with a device at the checkout counter next to a traditional point of sale system. Or, for entering a location like a stadium or badging into work, Amazon One could be part of an existing entry point to make accessing the location quicker and easier."
"Once you're enrolled, to use Amazon One to enter these Amazon Go stores," he added, "you'll just hold your palm above the Amazon One device at entry for about a second or so, and be on your way. It's that simple."
Yes, simple enough: all it takes is some intimate personal info that you're not going to be able to easily change if it's ever stolen.
Why palm reading and not face or eye scans? "One reason was that palm recognition is considered more private than some biometric alternatives because you can't determine a person's identity by looking at an image of their palm," said Kumar.
"It also requires someone to make an intentional gesture by holding their palm over the device to use. And it's contactless, which we think customers will appreciate, especially in current times."
That said, Amazon is at least taking into account some basic privacy concerns. The cloud compute giant said people who want to have their data deleted from the system will be able to do so. The identification method is opt-in, and you can use your Go smartphone app if you'd prefer. It promises that the palm prints are never held on the in-store device, and are encrypted and processed in the cloud.
Don't forget, Amazon says it is already in talks with other companies on porting the tech. "We're excited to see Amazon One in more retail environments and are in active discussions with several potential customers," the internet titan said. ®