This article is more than 1 year old
Atari threatens to hit fourth VCS shipping deadline, provides pictures of boxes as proof of product delivery
Meanwhile the console's chief architect is still chasing payment
Atari may finally hit one of its deadlines – its fourth – over its retro VCS games console, three years after the project was launched.
Having blown past deadlines on December 2017, July 2019, and March 2020, Atari this week posted a series of pictures of boxes on its Indiegogo fundraising page, Twitter profile, and Medium blog, that it said show "much of the Indiegogo production run is already well on its way," traveling by ship from China to Chicago.
"Presented here for the first time, are assembly line photos of the actual Atari VCS 800 Collector's Edition units, and other scenes from the factory earlier this month, including pallets of Atari VCS units prepped and ready to ship to the US for distribution," the biz said in its update.
It's happening: Atari VCS backer units are on the way!
The first batch of Atari VCS' is on the way to the United States where they will be sorted and shipped to Indiegogo backers very soon.

Check out the latest and see some exclusive factory photos: https://t.co/pwma7ul3N8

— Atari VCS (@TheAtari_VCS) September 28, 2020
It is unusual for a company to post pictures of its product being boxed as proof it exists, though in Atari's case the move was necessary given persistent delays in the console, combined with long periods in which the company has failed to communicate with customers.
Concerns that it would in fact never ship were compounded back in October last year when its chief architect, Rob Wyatt, quit the project claiming he hadn't been paid for six months. Wyatt is still chasing the $261,720 he says he is owed, and sued Atari in April.
After Atari CEO Fred Chesnais claimed that "he lacked access to Atari's offices and was consumed by other pressing matters" to explain why the company had not responded to the lawsuit, the company then put off a scheduling hearing with a judge four times before finally meeting for the first time on September 17. Wyatt is confident he will eventually win his case.
Doubt
Atari's pictures of pallet boxes have left some observers skeptical. Back in June, Atari posted a picture of what it claimed was "the very first pallet of 96 Atari VCS 800 Onyx production consoles [that] has just been delivered to our US team."
Despite promising that the gear, and 404 other units of that specific version of the console that had been pre-paid for, would soon be delivered to customers, there is no evidence as we enter October that anyone has received their hardware, as far as we can tell.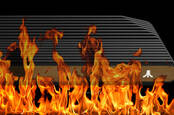 Not just its VCS console that's MIA, Atari is a no-show in court, too: Reborn biz ignores hardware architect's lawsuit over unpaid wages
READ MORE
This time, Atari claims that it has produced and shipped "much" of the 6,000 orders for the "Collector's Edition" of the console, with one factory picture showing a sticker on a console that indicated it was number 1,688 of a "limited edition" of 6,000.
There is further reason to doubt the company's claims. For instance, Atari apologized in 2019 for showing what it claimed was footage of a game running on the machine after the title's developer said it had never created a version for the VCS.
In May this year, it claimed "one of our most-ambitious team members" had created "a number of videos with his Atari VCS that fully illustrate its capabilities," and shared said videos, which appeared to show him playing games on the console. But of those six YouTube videos, showcased on Atari's own blog, four of them have since been removed. One of them showed the game Call of Duty: War Zone being played on an Atari VCS.
Curiously, the same video appeared elsewhere on YouTube with a telling description: it noted the footage showed "the Atari VCS playing CoD Warzone with upgraded components to make it work." Oh no.
Another issue
That caveat about "upgraded components to make it work" is critical to understanding that even if Atari does come good on its promise to produce and ship consoles that were paid for several years ago, it may still have a legion of angry fans to contend with.
Many within the gaming community think that the Atari VCS, especially with its $400 price tag, is woefully under-powered, and that it will not be able to run many current games. One influential YouTuber with more than one million followers, YongYea, has called the Atari VCS project a "disaster" and a "crap fest," and reckoned the Atari console's GPU floating-point math performance – said to be 0.46 teraflops – is just a quarter of that of 2013's PlayStation 4 GPU.
In comparison, the PlayStation 5, which will launch in November for $499 – the same time as most VCS owners may finally get hold of their machines – can manage 10.28 teraflops of GPU number crunching, and the next Xbox, which will also launch this year, has 12 teraflops. This assumes the same floating-point precision is used in each of these measurements, though we think you get the overall point.
Without sufficient graphics performance, state-of-the-art games are simply unplayable. The VCS is powered by an AMD Ryzen Embedded R1606G dual-core system-on-chip, for what it's worth.
In short, even if Atari does finally come good on its promises and delivers its VCS console to customers, they are likely to find it is only capable of playing old games despite the company marketing it as a modern "PC/console hybrid." The Atari VCS is available to buy online for $399 with "guaranteed delivery before December 24." ®