This article is more than 1 year old
It's Google's hardware launch day, and what do we get? A few Pixel phones, Nest kit, and another Chromecast
One more thing: Hold for Me, a way to delegate muzak-filled waiting
Google on Wednesday held a virtual event to introduce its latest Pixel smartphones, a retooled Chromecast video streaming receiver, and a Nest-branded cloud-connected mic-speaker combo.
The event, dubbed Launch Night In, wasn't entirely a surprise as the revamped Chromecast units were spotted earlier this week on the shelves of retailers like Home Depot and Walmart. Rick Osterloh, Google's senior VP of hardware, presided over the show: a set of flashy recorded video product demos featuring celebrities like Selena Gomez and Mark Ronson. See below for yourself.
The Pixel 5 runs Android 11, supports 5G networking, and is expected to be available on October 29 for $699 in the US. It should also be available on October 15 in Australia, Canada, France, Germany, Ireland, Japan, Taiwan, and the UK. It's rumored that Google may only produce 800,000 to one million units, as it believes the economic crunch as a result of the coronavirus pandemic will put folks off buying the handheld.
Google's latest flagship phone sports a mid-range Qualcomm 765G processor, with a 5G modem and a 6.0-inch diagonal Full HD+ Flexible OLED Smooth Display screen. It comes with two backside cameras, a 12.2MP primary camera and a 16MP ultrawide camera, and a frontside 8MP camera.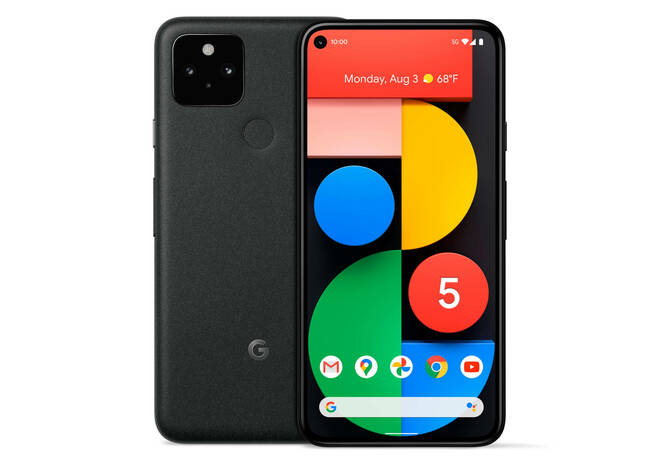 Google's Pixel 5 smartphone ... Click to enlarge
The Pixel 5 includes 8GB of RAM, 128GB of internal storage, and a 4,080mAh battery, with 18W USB-C rapid charging. And it's rated IP68 for water and dust resistance.
Google also announced the Pixel 4A 5G, a slightly less pricey model offered for $499. It includes a 6.2-inch Full HD+ Flexible OLED display, Snapdragon 765G, and a similar camera setup – 12.2MP/16MP in back and 8MP in the front. Its battery is slightly less capable at 3,885mAh battery and it comes with only 6GB of RAM.
There's also a Pixel 4A model without 5G. It has a 5.8-inch Full HD+ OLED screen, runs on a lesser Qualcomm Snapdragon 730, a 3140mAh battery, and lacks the 16MP ultrawide rear lens. The Pixel 4A 5G hits Japan on October 15 and other countries in November.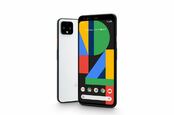 Well, that was quick: Google brutally culls Pixel 4 and 4 XL before successor hits market
READ MORE
Notable camera features for both models include: Night Sight Live HDR+, Cinematic Pan, and Portrait Light. Security features include the Titan M security chip and Pixel Imprint. Both have stereo speakers and a USB-C port. The Pixel 4A 5A and 4A both boast a 3.5mm audio jack - something to delight purists or luddites, depending on your point of view.
In terms of innovation, the most promising Pixel feature in our estimation is Hold for Me. This allows you to have Google Assistant to wait on hold, listening patiently to whatever awful music is playing, and then alert you when a human is available to take your call.
The $50 Chromecast, known by the codename "Sabrina," is a USB-C dongle that can be connected with TV or monitor (4K/HDR) to play video from various streaming services. Two of these – Netflix and YouTube – get dedicated buttons on the Chromecast remote unit, alongside a Google Assistant button.
Formally known as Chromecast with Google TV, the device comes in three colors: Snow, Sunrise, and Sky.
Google TV was a smart TV platform launched in 2010, with various partners, to bring the web to TV and to create a way to run Android apps on televisions. It was supplanted by Android TV in 2014. And now the name is back as a new interface layer atop the Android TV platform.
"Think of Google TV as your personal entertainment content curator," said Shalini Govil-Pai, head of Android TV at Google.
Google says Stadia support is coming to Google TV in 2021.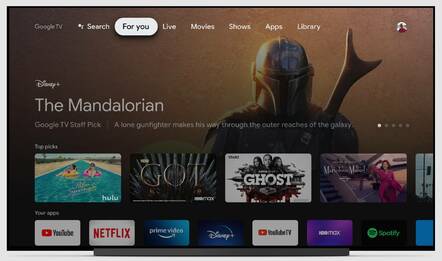 The Google TV interface in 2020 ... Click to enlarge
The Nest Audio represents Google's latest take on microphone-speaker combos that interact with cloud-based services and listen for people's spoken commands. The current euphemism for these things is "smart speaker." Google claims the device is 75 per cent louder and has 50 per cent stronger bass than the original Google Home.
The device is 1.6 pounds, measuring 6.9 inches (175 mm) H, 4.9 inches (124 mm) W, 3.1 inches (78 mm) D. It comes in five colors: Chalk, Charcoal, Sands, Sky, and Sage. It features 802.11b/g/n/ac (2.4 GHz/5 GHz) Wi-Fi, Bluetooth 5.0, and has Chromecast built in.
It runs on a 30W, 24V external adapter and a Quad Core A53 1.8 GHz processor. It sports a 75 mm woofer and 19 mm tweeter, with 3 far-field microphones and a 2-stage mic (hardware) mute switch. It supports the Google Home app on Android and iOS devices.
Available for $99, Nest Audio offers a way to interface with Google Assistant, the Chocolate Factory's cloud-based assistant software.
It joins a hodgepodge family of related Google connected home devices: Google Home, Home Max, Home Mini, Nest Mini, and display-equipped variants Nest Hub and Nest Hub Max.
The Google Store is now taking pre-orders for its latest kit. ®