This article is more than 1 year old
Russian hacker, described as 'brilliant' by judge, gets seven years in a US clink for raiding LinkedIn, Dropbox
Yevgeniy Nikulin, grabbed in Prague, unlikely to see his mother alive again after swiping 200m+ user records
A Russian scumbag found guilty of hacking into LinkedIn, Dropbox, and Formspring – and stealing data on over 200 million users – has been sent down for more than seven years.
Yevgeniy Nikulin was sentenced to 88 months in an American prison by a federal court in San Francisco this week though the judge in this case, William Alsup, was surprisingly kind about the 32-year-old Russian. "I think you're a brilliant guy. Very smart," Alsup told him. "I urge you to apply that brilliance to a lawful profession and do something good with your life other than hacking into computers."
The sentence will account for the four years Nikulin has already spent behind bars following his capture in a restaurant while on holiday in Prague in 2016 after he attracted attention by driving around in a flashy car and spending liberally. He was charged with nine criminal counts of computer intrusion, causing damage to a protected computer, aggravated identity theft, trafficking, and conspiracy.
His trial in the US was dogged by delays: first by Russian authorities who tried to prevent him being extradited to America, then following a lengthy dispute over whether he was mentally fit to stand trial. When the hearings finally began, it was almost immediately put on hold due to the coronavirus outbreak, and was nearly abandoned after jury members objected to being in close confines for weeks.
Thanks to some radical distancing measures in which the defendant, attorneys, and judge wore masks and witnesses testified behind a glass panel, the trial started again in July, and he was found guilty shortly thereafter.
A strong case?
It's worth noting that Judge Alsup repeatedly questioned the government's case during the trial itself and he addressed that at sentencing:
"I feel I said things on the record in frustration along the way that may have led the casual observer to think the case was a weak case. It's true that while the evidence was coming in at trial that me, the judge, felt the case was disjointed and possibly too weak to go to the jury. I did have that feeling from time to time."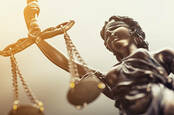 Guilty: Russian miscreant who hacked LinkedIn, Dropbox, Formspring, stole 200-million-plus account records
READ MORE
But he praised the closing arguments of the assistant US attorney as being the best he'd heard in 21 years on the bench. "All of the loose pieces and data points fell into place and it was quite clear the government had a strong case, not a weak case," Alsup said.
On the sentence, he said: "I want to impose a sentence that would take into account that the time imposed is harder on him than anyone in his position." Nikulin doesn't speak English and has been in jail during the COVID-19 pandemic, further limiting his understanding of the proceedings. "It's not quite Kafkaesque because he did the crime, but it is harder on him than it is on the ordinary defendant," Alsup noted.
Sympathy
The judge also expressed sympathy that Nikulin has a 10-year-old daughter in Russia, and he is unlikely to see his mother, who is in poor health, alive in person again due to being jailed in the US. His lawyer argued that "the weight of the guilt and the pain of being separated from these people who love and need him is far more punitive than any term of imprisonment that this court or any other can issue to Mr Nikulin," and argued that he should only be sentenced for time served i.e. let out immediately.
But Alsup didn't buy the argument that he wouldn't go back to hacking. "Let's say Mr Nikulin were released today and went back to Russia. The only thing he knows how to do is hack into computers. How can we be assured that when he got back there, out of the reach of US authorities, that he wouldn't go back to doing it all over again?" the judge said.
"I think I know enough about him to know that he will be very tempted to get back into the hacking business when he gets over there then he'll be beyond the reach of the US."
Nikulin is likely to serve just over two years in US jail before returning to Russia, where, the judge hopes he will go straight. ®