Robot wars! Scandi automation biz AutoStore slings patent sueball, claims it owns Ocado warehouse tech
Online grocer shrugs: We'll see when we actually receive the papers
Updated AutoStore, a Norwegian manufacturer of robotic warehouse storage and retrieval systems, says it is suing UK online retailer and tech outfit Ocado.
It is claimed the Ocado Smart Platform – which Ocado has sold to US retailer Kroger as well as British chains Marks & Spencer, and Morrisons – unlawfully infringes its patented technology.
AutoStore's system is based on storage bins stacked vertically in a grid and stored in a cubic structure. Bins retrieved by robots travel on the top of the structure. It currently supports more than 500 installations and 18,000 robots across 30 countries, serving markets from grocery and healthcare to aviation. The customer list includes supermarket Asda in the UK, Best Buy in the US, and Lufthansa in Germany.
Karl Johan Lier, CEO and president of AutoStore, said: "Our ownership of the technology at the heart of Ocado's warehousing system is clear. We will not tolerate Ocado's continued infringement of our intellectual property rights in its effort to boost its growth and attempt to transform itself into a global technology company."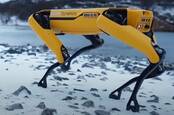 Meet the dog that's all byte and no bark: Boston Dynamics touts robo-pooch Spot with $75k-a-pop price tag
READ MORE
AutoStore says it has filed complaints with America's International Trade Commission, a US federal district court in eastern Virginia, and the High Court of England and Wales. It says it seeks orders barring Ocado and its partners from manufacturing and selling infringing products and importing them into the United States, as well as financial damages.
In 2019, retailer Marks & Spencer bought a 50 per cent share of Ocado's retail wing for £750m, leaving the Ocado Group to focus on technology and automation.
In a statement to the London Stock Exchange today, Ocado said: "Ocado confirms it has not received any papers in relation to these claims and this is the first we have heard of this new claim. We are not aware of any infringement of any valid AutoStore rights and of course we will investigate any claims once we receive further details.
"We have multiple patents protecting the use of our systems in grocery and we are investigating whether AutoStore has, or intends to infringe those patents. We will always vigorously protect our intellectual property." ®
Updated to add
AutoStore's complaint against Ocado, filed in the aforementioned federal court, is here [PDF]. It claims the British biz infringed the following five US patents:
The first three describe a robot for transporting storage bins, and the final two cover an automated storage system and/or a robot for transporting storage bins. The chief gripe is that Ocacdo's cube-shaped bots that move over a fixed grid of columns of storage bins to pick up and move around in a warehouse is rather similar to AutoStore's robotic systems.
In the photos below, taken from the lawsuit's filings, the top image is of AutoStore's Red Line and Black Line warehouse transporter robots, and the bottom image is said to be Ocado's equivalent...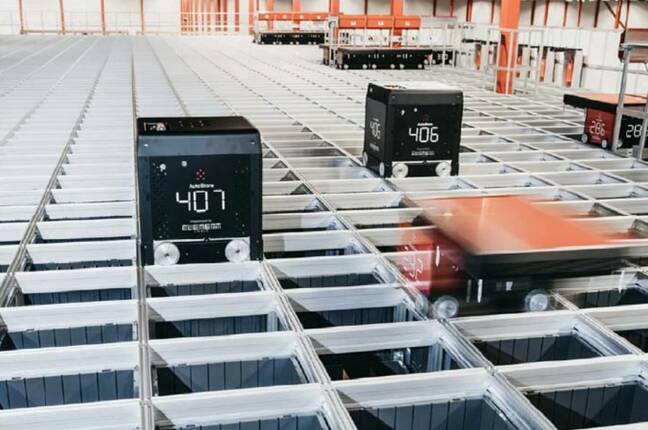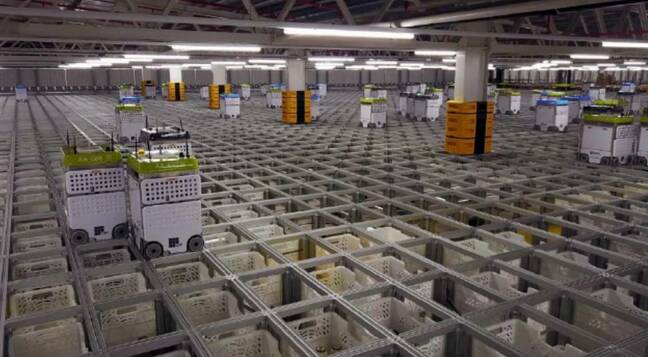 AutoStore seeks a court order banning Ocado from infringing its patents as well as damages and its legal bills paid.