This article is more than 1 year old
Key-cutting machine borked sideways after visit from the BSOD fairy locks things down
Under 3 minutes? Not today
Bork!Bork!Bork! A return to the hue of blue today, with a cautionary tale of keeping your keys safe and sound when Windows is around.
This latest example of Microsoft's finest being poorly in the wild was spotted by Register reader Adam Isherwood during that most British of undertakings – a weekend trip to his local purveyor of DIY products.
After collecting his implements of destruction and construction, Adam paused to snap a shot of a very distressed key-cutting kiosk. Nobody likes being BSODed sideways, and this eye-watering example is our old friend A process or thread crucial to system operation has unexpectedly exited or been terminated.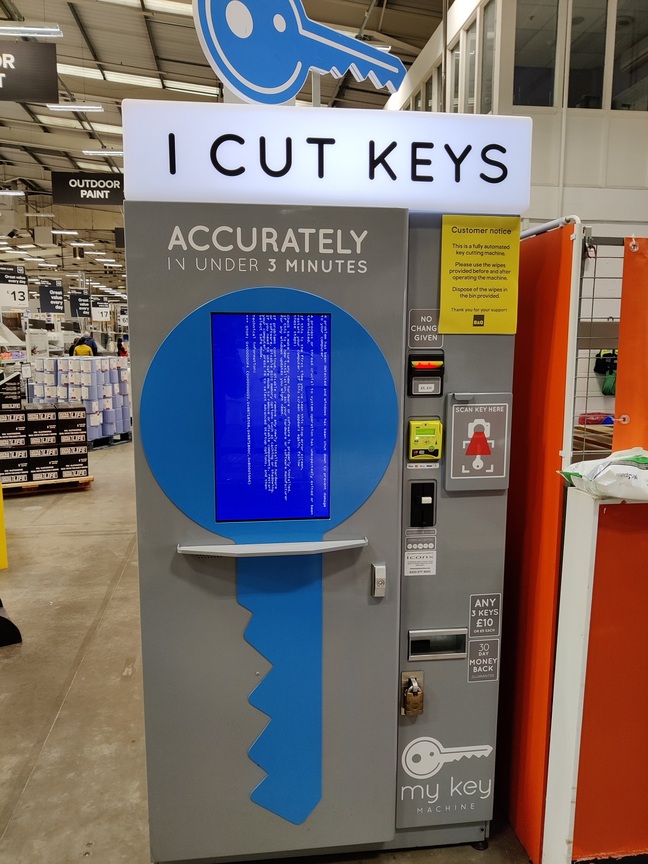 Digging a little deeper into the meaning of that 0x000000F4 STOP error hints that a CRITICAL_OBJECT_TERMINATION might be in the offing. Some cross-session naughtiness might be to blame, or perhaps a simple bit of duff hardware.
Either way, there'll be no entrusting of one's keys with this particular machine today.
A shame because the kit on offer from Keighley-based My Key Machine is quite the neat device. The team behind it kicked things off in 2010 and spent two years building the first-generation machine. Three years on, the gang were flinging the things out of the door.
"The appearance of the machine has evolved dramatically," trumpets the company's puffery, "but the revolutionary technology inside is still the bedrock in which our fantastic service is based."
That, and the pumice-like bedrock of Windows, judging by the unhappiness on display in England's Huddersfield.
The team behind the machine told us that while it couldn't deal with this particular example of kiosk borkage using remote access, a reboot by store staff dealt with the error.
"One of our field engineers was then despatched to investigate any potential hardware fault that may have occurred," added the spokesperson.
There are those that might step back from the idea of scanning a key for reproduction by a kiosk powered by anything electronic, let alone Microsoft's finest, and for many the human touch is often preferable despite the "under 3 minutes" promise of My Key Machine.
"Choose the best and 'Just Say No' to the rest!!" is the slogan of Wallington-based Mentor Lock & Safe Co, operating from a small shop in the Surrey town. A trek from Huddersfield for sure, but when one has the chance of being served by Grange Hill's* Zammo (aka Lee MacDonald, owner of the business), the thought of a contactless tap on a kiosk pales somewhat.
Just say... Windows? As the kids from Grange Hill never, ever said. ®
* A BBC children's drama that ran from 1978 to 2008, portraying life in a fictional secondary school. Samuel "Zammo" McGuire, played by MacDonald, featured from 1982 to 1987 and the character's infamous dalliance with hard drugs saw the cast take on Nancy Reagan's "Just Say No" slogan in a video of 1980s musical delight.