This article is more than 1 year old
Clowns to the left to me, jokers to the right, here I am, stuck in the middle with EU: Google faces antitrust war with America, China
Search, mobile OS domination under fire from both sides of the planet
Google is about to face an onslaught of antitrust artillery from both the United States' Department of Justice and China's State Administration for Market Regulation, all while feeling the squeeze from Europe.
Uncle Sam has not been on friendly terms with big tech lately. Last year, the Dept of Justice launched a monopoly abuse probe, examining how a lack of oversight may have led to dominant tech corporations stifling competition in areas from e-commerce to mobile apps and social media.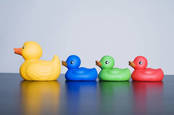 DuckDuckGo cries fowl after being expunged from Google's Android search preferences menu for most of Europe
READ MORE
And now, according to Reuters, the department could file a lawsuit against Google as early as next week, which will focus on the web goliath's sprawling search operation. The US government's legal eagles will accuse Google of screwing "rivals such as Microsoft's Bing by depriving them of the data about users and user preferences that they need to improve and to advertise to people," the news wire reported.
The US government is also said to be looking into complaints that Google unfairly promotes its own services and products over rivals in what is the planet's biggest search engine, an issue that has long worried regulators worldwide.
And don't forget: last year the European Union fined Google €1.49bn ($1.75bn) for restricting competition in search advertising. In Europe, Google is required to offer four search engine options on Android phones, one of which is always Google. The other three are open for auction, meaning that smaller search engines like DuckDuckGo can't compete and are left out. "This auction remedy, proposed by Google, was constructed to make Google money, not to provide meaningful consumer choice," the privacy-focused DDG said.
The Middle Kingdom's also mad
China, meanwhile, is reportedly considering going after Google's Android operating system at the request of Huawei. The Chinese telecoms hardware giant was said to have griped to the State Administration for Market Regulation (SAMR), China's market watchdog, that Google "leveraged the dominance of its Android mobile operating system to stifle competition," we're told.
The move comes amid a string of policy changes emitted by the Trump administration to stop Chinese manufacturers from getting their hands on American technology. Huawei was placed on the US Department of Commerce's entity list to block it from conducting business with and obtaining hardware and software components from stateside organization.
That forced Google to yank its Play Store and mobile services code from future Huawei handsets in May following an executive order from President Trump. Android apps rely on that Google-built framework, so the move threatened to knacker the software ecosystem for next-gen Huawei's handhelds.
"This means that Google is prohibited from working with Huawei on new device models or providing Google's apps including Gmail, Maps, YouTube, the Play Store and others for preload or download on these devices," Google said earlier.
Now Huawei has prepped its own open-source operating system to replace Android in its products.
Google, the Department of Justice, and Huawei were not available for comment. ®