The mid-range smartphone world is enjoying a period of sustained growth, as price-sensitive customers swerve expensive flagships and pick something more modest. Hoping to exploit this market is chip designer MediaTek, which will bring its 5G-capable Dimensity 800 silicon to Europe following its Chinese introduction earlier this year.
MediaTek is largely known for its entry-level Helio system-on-chips, which proliferate in the lower tiers of the mobile market. Introduced in late 2019, the Dimensity series represents a broader push to the middle, more aspirational territory.
The Dimensity 800 system-on-chip (SoC) was unveiled in January. It features four 64-bit Arm Cortex-A76 cores that do all the heavy lifting, and four less-beefy Cortex-A55 cores that do everything else, all clocked at up to 2GHz. It also includes an Arm Mali-G57 MC4 GPU, and lots of other bits and pieces.
The system-on-chip primarily competes against Qualcomm's mid-range Snapdragon 7 series. In this match-up, Qualcomm has something of a first-mover advantage, with the 765G silicon present on high-profile devices like the OnePlus Nord and the Motorola Moto G 5G Plus.
The biggest area of differentiation between the Dimensity 800 and its rivals is its overarching emphasis on entertainment — particularly gaming. Keeping power consumption, and thus battery life, under control was also a high priority, as argued by MediaTek's head of European business Rob Moffat.
"We have always supported effective power efficiency in managing the cores themselves," Moffat said. "Arm have a solution and we have our own solution, called CorePilot. We've taken that a step further in the 5G products and now have a feature called UltraSafe."
UltraSafe allows the hardware to perform dynamic power management to either preserve or get a bit more juice flowing as needed, regardless of the connectivity in use — be it 5G, LTE, or earlier. It can automatically adjust the power configuration and operating frequency of the modem depending on how it's being used, for example.
This feature exists in addition to standard 3GPP mechanisms, such as bandwidth part adaptation (BWP) and dynamic BWP, which allow the modem to enter a narrowband mode during periods of low network utilization so as to reduce power consumption.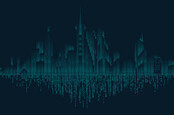 5G router, anyone? MediaTek lobs cheaper chipset at telco carrier pigeons
READ MORE
On the entertainment and content-streaming front, Moffat touted MediaTek's HyperEngine technology, which features in the Dimensity 800 SoC. This consists of four components, one being a network engine that automatically switches between cellular or Wi-Fi in under 13 milliseconds in order to identify the best possible connection to use to reach the internet. Whichever comes out tops gets selected for further use. The other three components focus on GPU and CPU optimization, touch responsiveness, and picture quality.
"We want to get the stutters to right below two stutters per minute, and that's a very good rate for mobile gaming," Moffat said.
MediaTek, which says it was the first mobile chip designer to integrate a 5G modem into a system-on-chip, has bunged sub-6Ghz 5G connectivity into the Dimensity 800 package, which supports standalone and non-standalone modes. It also supports dynamic spectrum sharing (DSS), in which network operators use the same spectrum bands for 4G and 5G so that they can more rapidly roll out 5G where possible; this was recently tested by Vodafone Netherlands. The 800 series is also designed to work across fragmented 5G network bands, aggregating chunks of spectrum as needed.
"This is important as it gives carriers the ability to have higher average speeds and seamless handovers," said Moffat.
Some of the more interesting networking features of the Dimensity 800 SoC depend on carrier support. The chip can perform voice-over-NR, which uses the 5G network to make voice and video calls using carrier-grade as well as OTT services provided by third-party applications, and is regarded as a fundamental step in the transition to standalone 5G.
MediaTek was chosen by Swedish telecoms giant Ericsson in the industry's first voice-over-NR tests earlier this year. Despite the technology being in place on the silicon, it's likely be some time until normal folks get to use it in anger.
The Dimensity 800 series will arrive in handsets in Europe this month, we're told, although MediaTek hasn't specified which device manufacturers will use it. ®