As well as the updated and costly Surface Pro X, Microsoft has unveiled a cheaper way for users to dip a toe into its hardware waters with the Surface Laptop Go.
Described as the "everyday, everywhere laptop", the diminutive machine packs a 12.4" touchscreen and "all-day battery life". Assuming your day lasts about 13 hours and you use the machine in the same way Microsoft did when it did the testing.
Due for release in the UK on 26 October, the specification is closer to the poverty end of the scale. While a 10th-generation Core i5 processor will chew through most things, the paltry 4GB of RAM for the base model is less than ideal for Windows 10.
That £549 base model also features 64GB of eMMC storage (and only comes in platinum). We'd strongly advise spanking the extra £150 for the £699 model that has a more reasonable 8GB RAM and 128 GB SSD. Another £200, to £899, will double the storage to 256GB. US buyers will be paying $549, $699 and $899 respectively.
Another reason to skip the 4GB model is the lack of a Fingerprint Power Button, that allows one-touch sign-in. Connector-wise, the 1.1kg device features single USB-C and USB-A sockets as well a Surface Connect port.
Windows 10 Home (in the unloved S mode) comes pre-loaded, as does a 30-day trial of Microsoft 365 Family (assuming the company's cloud hasn't dropped from the sky again). Here's what it looks like: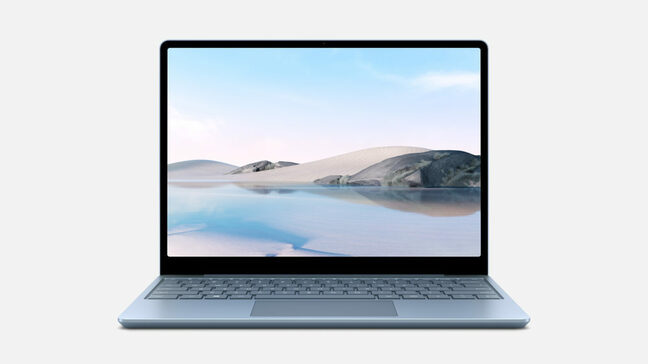 The Surface Go 2-in-1 (and its more useful follow-up, the Go 2) have proven a popular addition to the Surface line, with the base model starting at £399 (or $399), although things are a little less attractive when one considers that £619 ($629) is needed to buy one with a bit more horsepower, and a £125 ($90) keyboard is still needed on top of that.
The Surface Laptop Go therefore follows in the footsteps of its stablemate; smaller and cheaper than a Surface Laptop 3 and, in Microsoft's eyes, a viable competitor to Chromebooks in the all-important education market.
A "cheap" Surface, however, still commands a premium over competing hardware, and Microsoft will point to the design of the machine and branding as a justification, although risks dulling the shine of the Surface hardware halo by doing so.
Others may well look at that price and glance elsewhere for a little more bang for one's buck. ®