This article is more than 1 year old
US-China trade war worse for tech business than COVID-19, says VMware's Asia boss
Buyers aren't super-keen to jump through geopolitical hoops
VMworld The US-China trade war has made more trouble for VMware's business in Asia than the COVID-19 pandemic, according to Duncan Hewett, Virtzilla's senior vice president and general manager for Asia Pacific & Japan (APJ).
Speaking to The Register as part of this year's virtual VMworld, Hewett said the trade war has caused "some challenges," and that "both sides" are contributing to the strife.
"The Chinese government is putting increased requirements on customers on how they choose tech," he said. "And the US government is asking for increased certifications that our products are not going to military end users. Both sides slow down the ability to adopt technology in a fast-growing market."
Hewett said VMware has not been asked to do anything beyond ensuring it adheres to published rules.
"We are just following the requirements on both sides," he said.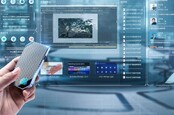 Alibaba wants to get you off the PC upgrade treadmill and into its cloud
READ MORE
VMWare CEO Pat Gelsinger is a member of America's National Security Telecommunications Advisory Committee, a position he was nominated to by President Trump. Perhaps he'll share Hewett's experiences at its next meeting on 6 October, although as that meeting's agenda [PDF] runs for all of 25 minutes and mentions only one item – deliberating and voting on the committee's "letter to the President on communications resiliency" – it may be tricky to sneak in VMware's experience.
But we digress. While the trade war has made life hard for VMware, it hasn't dented its overall performance. On its last earnings call the company said that the APJ and EMEA regions had displayed "a bit more strength" than the Americas and racked up results such as 30 per cent increase in bookings for the company's NSX network virtualization product.
Hewett also characterised VMware's cloud partnership with Alibaba as a "small installation to give customers an option to run in China". But he said VMware intends to expand the relationship as Alibaba Cloud expands its footprint to make it an option to rank with other VMware partners.
"The key is to provide customers with choice," he said. ®