ISS? More like HISS, am I right? Space station air leakage narrowed down to Russia's Zvezda module
Also: Scrubtember becomes Abortober, and the worm returns once more to NASA
In brief The location of the air leak from the International Space Station (ISS) has been identified. According to Russia's Roscosmos, it is in the Zvezda Service Module transfer chamber.
While not an imminent threat to the crew's safety, the usual seepage of air has grown in recent months, necessitating a hunt for the culprit. The crew had already checked the US, European, and Japanese modules, and had kicked off work in the Russian segment, closing hatches between Zvezda's aft and forward sections, and collecting data with an ultrasonic leak detector.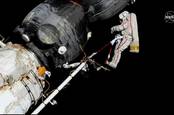 Hole-y ship: ISS 'nauts take a wander to crack Soyuz driller whodunnit
READ MORE
The next challenge will be to identify exactly where the leak is located now that the gang has narrowed things down to a specific area. At its current rate, the leak poses no immediate danger to the crew, according to NASA.
Zvezda recently celebrated the 20th anniversary of its launch atop a Russian Proton rocket. The bulk of it is made up of the work compartment (where crews work and live), a transfer compartment (with three docking ports), and the transfer chamber (with a single docking port), which sees action for both Soyuz and Progress spacecraft.
Scrubtember is gone, hello Abortober!
It has been a bad few weeks for US-based rocket fanciers as SpaceX, United Launch Alliance (ULA), and Northrop Grumman took turns at failing to get their respective rockets off the ground.
While iffy weather or the odd wayward boat are usually to blame, Northrop Grumman's 14th resupply mission to the ISS was scrubbed late in the countdown last night after "off-nominal data from ground support equipment" was received.
Grumman is in good company. ULA failed yet again to light the blue touchpaper on its mighty Delta IV after the Terminal Countdown Sequencer Rack (TCSR) called a hold at T-minus 7 seconds, resulting in yet another shift to the right for its NROL-44 payload. SpaceX also stood down from its latest Starlink launch attempt yesterday after "an out-of-family ground sensor reading" in the closing minutes of the launch countdown.
The trio all hope to get their rockets off the ground in the coming weeks. Northrop Grumman intends to have another crack at launching the Antares in the early hours of Saturday morning (UK time).
Nobody wants Abortober to become a thing.
The worm returns (again)
Finally, the comeback of NASA's iconic "worm" logo continued last week as the agency trumpeted the application of the bright red design to the solid rocket boosters (SRB) that will be attached to the Artemis I core stage.
As well as making an appearance on the SRBs, the logo has also been applied to the underside of the Orion capsule's crew module adaptor along with that of ESA. ESA has provided the service module for Orion, which will keep the crew alive during a mission, as well as taking on propulsion duties following launch.
The worm, which put in an appearance on SpaceX's first crewed launch, won't have things all its own way. NASA's meatball and an ESA logo will also be shown on the fairings that will cover the service module, and be visible from the launchpad. Should Artemis I ever actually make it to the launchpad, of course. ®