This article is more than 1 year old
Federal judge temporarily neutralizes President Trump's blockade against visas for foreign techies, other workers
Earlier ban on H-1B, H-2B, J and L passes ruled an overstep of presidential power, middle-finger to Congress
President Trump's proclamation in June that barred companies and other organizations from bringing in foreign workers into the US under various visas like the H-1B has been temporarily, partially blocked.
On Thursday afternoon, US District Judge Jeffrey White, a George W. Bush appointee to the Northern District of California, issued a preliminary injunction that suspends the ban albeit only for the plaintiffs rather than nationwide: the National Association of Manufacturers, the Chamber of Commerce of the United States of America, the National Retail Federation, Technet, and Intrax. That's still a lot of workers. Technet represents Google, Cisco, Amazon, Apple, HP, Microsoft, and so on, we note.
Judge White concluded that the proclamation exceeds the President's authority. And he asserted that Presidential power must have limits because to do otherwise would be to make the President a king in the context of immigration policy, and override a little thing called Congress.
...does not afford the President unbridled authority to set domestic policy regarding employment of nonimmigrant foreigners
"Congress' delegation of authority in the immigration context under Section 1182(f) does not afford the President unbridled authority to set domestic policy regarding employment of nonimmigrant foreigners," he wrote in his order [PDF]. "...Indeed, there must be some measure of constraint on Presidential authority in the domestic sphere in order not to render the executive an entirely monarchical power in the immigration context, an area within clear legislative prerogative."
The injunction suspends Presidential Proclamation 10052 for the trade groups that sued and their members until the court can issue a final judgment in the case. The proclamation prevented foreigners from entering the US on H-1B, H-2B, J, and L visas, plus or minus a few caveats; it was later watered down somewhat though the overall objective remained.
Technology companies have been vocal in their defense of the H-1B program, through which skilled technical workers have been brought into the US. Following the presidential order, various tech executives made their displeasure with the proclamation known.
"Immigration has contributed immensely to America's economic success, making it a global leader in tech, and also Google the company it is today," Alphabet CEO Sundar Pichai said after Trump's announcement. "Disappointed by today's proclamation – we'll continue to stand with immigrants and work to expand opportunity for all."
Apple CEO Tim Cook echoed this view: "Like Apple, this nation of immigrants has always found strength in our diversity, and hope in the enduring promise of the American Dream. There is no new prosperity without both. Deeply disappointed by this proclamation."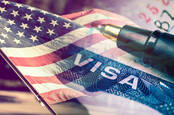 With H-1B workers not exactly rushing to America this year, Uncle Sam plans to spend millions home-growing IT staff
READ MORE
President Trump justified the order as a response to the job losses following from the COVID-19 virus pandemic. The judge however said the Trump administration failed to offer any support for its claims.
"[T]here is no record whatsoever that the President or any federal agencies at his instruction conducted any evaluation regarding the effect on the domestic economy of banning work-related nonimmigrant visas at issue here," he wrote.
And his order goes on to assert that data shows COVID-19 job losses don't really have much to do with those working under H-1B visas.
"The statistics regarding pandemic-related unemployment actually indicate that unemployment is concentrated in service occupations and that [a] large number of job vacancies remain in the area most affected by the ban, computer operations which require high-skilled workers," the judge's order says. "These jobs are simply not fungible."
"This ruling against the implementation of these sweeping restrictions on legal immigration is a great victory for American businesses and our nation's economy," said Jon Baselice, Executive Director of Immigration Policy, US Chamber of Commerce, in a statement emailed to The Register. ®