Spooked by the specter of out-of-control, virus-spreading parties, Airbnb slams coffin lid on Halloween rentals
Don't be monster-mashing that reservation button in the US and Canada, you ghouls and ghosts
Airbnb is cracking down on late-October reservations, hoping to thwart anyone's plans for a rowdy Halloween get-together in the US or Canada.
The short-term rental app maker on Friday said that over the weekend of October 30 to 31, it will not let anyone book a single-night stay at a whole house – rooms are excepted – lest they try to use those times for a Halloween party in the North American nations.
Any one-night reservations for October's final weekend will be scrapped, with guests getting their money back and the hosts getting their payment courtesy of Airbnb.
Even those who get to keep their reservations over the weekend, such as those booking a room in a house, are reminded that Airbnb does not allow gatherings of more than 16 people in its rentals, even if the host says it is OK. Having any kind of indoor party right now isn't such a great idea amid this coronavirus pandemic, we note.
Airbnb said this Halloween clampdown is part of an effort to prevent people from throwing parties in houses they had rented under the guise of holding a small gathering or having no guests at all. While Airbnb has a blanket policy in place against large parties, there's only so much it can do to stop people from using rented houses as impromptu venues.
"The great majority of guests are respectful of our hosts' homes and neighbors, and we understand that this initiative will disrupt many one-night reservations that might not have led to parties," said Airbnb. "This action is designed to help protect our hosts and the communities they live in."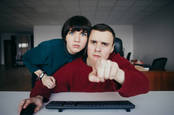 Error-bnb: Techies scramble to fix Airbnb website bug that let strangers read each others' account messages
READ MORE
The rule is only in effect for the weekend of October 30 and 31; those who booked for the weekends before and after the holiday will not be affected.
Airbnb also said the move is being made as a public-health effort. By blocking one-night rentals, it is hoped that the app maker will be able to cut down on the number of parties taking place in the pandemic, and help keep infections a bit lower.
"Our hosts are our partners in this mission – the vast majority already prohibited parties in their listings even prior to our introduction of a global ban on parties and events," said Airbnb. "We are introducing these new measures to better support these hosts and to do our part to help protect public health in North America in this particular moment."
It doesn't help that last year's Halloween was a particularly bad night for Airbnb. For instance, a party at a rented house in California took a tragic turn when guests drew guns and left five people dead. The house was later found to have been rented by a user who claimed it was going to be used for a "family reunion" for a dozen people rather than the 100-person party it ended up hosting.
In addition to restricting one-night rentals, Airbnb said it will also be scanning its listings for renters who have no prior rental history and sending out members of its Neighborhood Support Line to keep an eye on properties.
In short, don't try to use Airbnb for your Halloween party, they really, really, don't want any part of it. ®