Apple seeks damages from recycling firm that didn't damage its devices: 100,000 iThings 'resold' rather than broken up as expected
iGiant 'would rather shred stuff than let it hit the used market'
Apple in January sued the Canadian arm of Global Electric Electronic Processing (GEEP) for allegedly reselling roughly 100,000 iPhones, iPads, and Apple Watches that were supposed to be broken up and recycled.
The lawsuit, first reported last week by The Logic, a paywalled Canadian tech publication, reportedly prompted a countersuit from GEEP Canada in July in which the recycler claimed the gadgets were resold by three rogue employees and that their little side hustle was not official policy.
According to The Logic, Apple claimed the iPhone maker sent GEEP more than half a million devices to be recycled between January 2015 and December 2017. When Apple audited the facility, it supposedly found lapses in on-site security, and then reviewed the serial numbers of the devices it had shipped.
Apple is said to have discovered that almost 20 per cent, or about 100,000, of the devices associated with those serial numbers were still active on mobile carrier networks. As a result, the iGiant is seeking $31m CAD ($23m) in damages plus any profit GEEP made on the resale.
GEEP, which has multiple subsidiaries, is owned by Giampaolo Group, a Toronto-based investment firm, which did not immediately respond to a request for comment. Last year, the outfit sold GEEP USA and GEEP Costa Rica to Regency Technologies based in Stow, Ohio.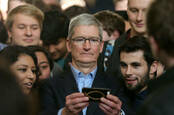 Brit MPs to Apple CEO: Please stop ignoring our questions about repairability and the environment
READ MORE
In a separate deal dating back to September, 2019, Quantum Lifecycle Partners purchased certain assets and liabilities from GEEP Canada and Shift Recycling. According to Quantum, these did not include liability for the Apple lawsuit, filed three months after the transaction.
"The Apple lawsuit was a liability that GEEP Canada maintained and Quantum didn't assume," Quantum said in a statement, which claimed that the employees named in the complaint were never employed by Quantum.
Clayton Miller, VP of business development for Quantum, declined to comment on the case beyond what Quantum has stated on its website. Apple did not respond to a request for comment.
In a phone interview with The Register, Nathan Proctor, director of the Campaign for the Right to Repair at US PIRG, said he didn't have any issue with Apple filing a claim against a company for allegedly violating the terms of a contract.
But he said he does object that these agreements exist because they're contrary to the goals of the right to repair movement, one of which is to reduce waste.
"Apple wants to control their products, the lifespan of their products, in a way that I think generally doesn't conform with what we normally think of as property rights," he said. "They want to make sure their products live in an ecosystem where they have a lot of control over the life of their products. They don't want people ordering parts pulled out of broken Apple Watches or MacBooks, or having independent technicians cobbling those things together."
Apple, he said, doesn't want a secondary market for its devices because it's something the tech goliath can't control.
Apple wants to control their products, the lifespan of their products, in a way that I think generally doesn't conform with what we normally think of as property rights
The iTitan has been criticized for years over the way it treats independent repair shops and over claims that it discourages customers from seeking repairs at unapproved facilities. The backlash proved sufficient to get the iPhone maker last year to agree to give independent repair technicians access to the same technical resources as authorized service providers.
Last year, the US House of Reps' Judiciary Subcommittee on Antitrust, as part of its "investigation of competition in digital markets," sent Apple a list of questions [PDF], some of which focused on the company's repair policies.
Apple in response [PDF] insisted it has lost money on repairs every year since 2009 and that it doesn't take action to discourage customers from seeking repairs with non-endorsed technicians. It also defended its efforts to deny independent repair shops access to approved parts by insisting its policies follow from concern about safety.
"Repairs performed by untrained technicians might not follow proper safety and repair procedures and could result in improper function, product quality issues or safety events," Apple said at the time.
This was only a few months after Apple prevailed in a trademark lawsuit against a repair shop in Norway that had refused to destroy recycled iPhone screens provided by third-party vendor that had been caught by customs inspectors.
Apple has never wanted to let people repair their stuff
"Apple has never wanted to let people repair their stuff," said Gay Gordon-Byrne, executive director of The Repair Association, in a phone interview with The Register.
Pointing to the lawsuit against GEEP, she said Apple "would rather shred stuff than let it hit the used market."
Gordon-Byrne acknowledged that Apple has the legal right to seek redress for contract violations but she questioned how destroying old devices fits with the company's professed environmental concern.
"Apple wants to wear this mantle of environmental beatitude which is just preposterous given what they do," she said. ®