This article is more than 1 year old
Suffering silicon: Benchmarks for Apple's A14 chip are in, but post-Intel Macs, when they arrive, will tell the real story
It's crunch time
The first benchmarks from Apple's A14 chip have appeared on Geekbench, suggesting a significant performance boost against the previous-generation A13 silicon that shipped on the iPhone 11 series.
The GeekBench 5 benchmarking system represents single-core and multi-core performance with a numerical value. The higher that number, the faster the chip. These rankings are themselves composites of multiple smaller granular benchmarks, which test how fast a chip is at performing a specific task – such as HTML5 rendering or ray tracing.
Contrasting the A14 chip with a benchmark from an iPhone 11 Pro Max, there were substantial increases to single-core and multi-core performance recorded. The A14 scored 1,583 in the single-core tests – almost 15 per cent higher than the iPhone 11's score of 1,333. Multi-core performance was up over 20 per cent – from 3,350 to 4,198.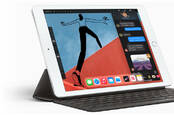 That long-awaited, super-hyped Apple launch: Watches, iPads... and one more thing. Oh, actually that's it
READ MORE
It's always worth taking benchmarks with a grain of salt – even ones deemed to be industry standards, like Geekbench 5. They're a particularly fuzzy method of gauging performance, and can be faked or otherwise influenced in order to provide a particular result. This trend is acutely common in the Android world, where vendors sometimes configure their devices to identify when a benchmarking app is being executed and provide additional hardware acceleration to create artificially high results. They aren't gospel, but they're good indicators.
The first device to carry the A14 chip is the iPad Air 4, which Apple announced last month at a virtual event. The iPhone 12 series is also expected to integrate the latest Apple Silicon. Again, you can expect some variation in performance here, as each device comes with a slightly different configuration – particularly on the RAM front.
The biggest question is how these results will compare with the Apple Silicon chips that'll ship on the upcoming post-Intel Macs. Already, we've seen (somewhat illicit) benchmarks from Apple's Developer Transition Kit (DTK) computers. The A14 handily outstrips these, and then some.
Although, again, we need a caveat here: the chip on the DTK is hobbled, with only a few cores active. Moreover, in the absence of a GeekBench 5 build for macOS on ARM, the app was forced to run through the Rosetta emulation layer, hampering performance further. To get a real lay of the land, we'll have to wait until we get some real production hardware, and a native benchmarking tool. ®